Hog Roast Falkirk was at Prestwick Airport last month, but it wasn't for a cheeky holiday abroad like you might be thinking! Our team was actually invited by Dean from Ryanair to handle a corporate event for the staff at Prestwick Aircraft Maintenance Ltd.
The event hosted 250 people, who arrived 50 at a time in shifts every 20 minutes. For Hog Roast Falkirk, this meant time was of the essence, and there was no room for error whatsoever – but that didn't scare us off!
Determined to pull off the event and impress the guests with the lunch of a lifetime, Steve, our catering manager, came up with a full-proof plan to ensure perfect time-keeping on the day. To begin with, he and the team arrived at the site in the wee hours of the morning, which gave them enough time to set up the catering gazebo, serving tables and chafing dishes before turning their focus to the food.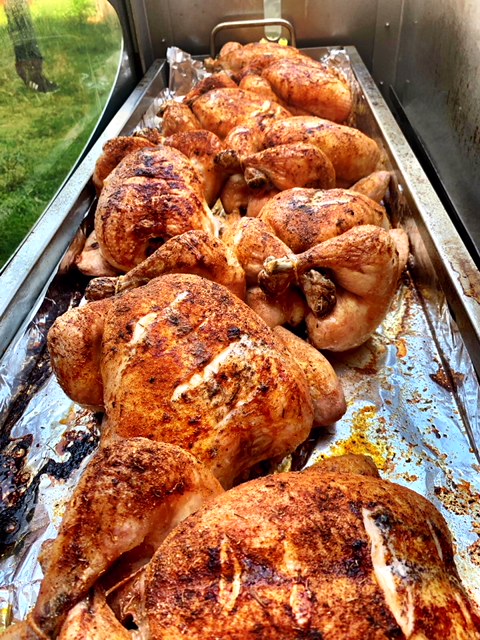 Before cooking the Texan 24 hour beef brisket, Cajun-spiced whole roast chickens and fall of the bone Louisiana sticky pork ribs, Steve rubbed the meat with our secret recipe seasoning to create a more impactful flavour. After that, it was time to prepare the mac and cheese, cook the sweet potato and regular fries, and to finish, the team grilled corn cobbettes along with veggie skewers with Greek halloumi cheese chunks.
Working like a well-oiled machine with precision and speed, Steve and the Hog Roast Falkirk catering crew managed to stay on target throughout the entirety of the afternoon. The guests, who arrived like clockwork every 20 minutes, were separated into five bays of 10 people each, and thanks to Steve's well-organised routine, no one had to wait around to be served their food.
Dean was extremely impressed with how well the Hog Roast Falkirk team had managed to handle the more complex catering style that this event had called for. And, like the aircraft maintenance staff, he was also thoroughly pleased with the food from our Southern Slow Roast Menu, which had put everyone in a fantastic mood!