To complement the perfect wedding location you need the perfect wedding feast to complete your big day. Having been at the fore front of the Scottish catering industry for many years we have had the pleasure of catering for a great number of these weddings throughout the country. Every size and style of wedding at every wedding location imaginable have been covered by our hardworking chefs and catering teams. There is no theme we cannot work with, no dietary need we cannot cater for, no menu ideas we cannot create and most importantly no area of Scotland that we cannot cover. This is why we have fast become the number one caterers in the ever growing Scottish hog roast wedding industry. From John o'Groates to Dumfries, we have created simple evening buffets and lavish four course wedding breakfasts.
We have extensive experience in the wedding catering industry with years of experience we can offer unbeatable service and the finest food possible. From making your initial enquiry with us right through to the big day itself we are constantly working hard to create your perfect catering experience that is designed to fit you and your partner perfectly. We will take your dream wedding feast and bring it to life using the highest quality ingredients and chefs qualified to the highest of standards.
Take a look at our sample wedding menu options today and we are sure you will find a menu that is perfect for your big day and if you want to make adjustments or changes remember that Spitting Pig Scotland are more than happy to help you create your very own tailor made feast. Remember that this is the happiest, most special day of your life and you deserve only the very best so call Spitting Pig Scotland today.
Every year thousands and thousands of couples chose to get married in Scotland, and not all of these future bride and grooms are originally from or even living in the country. The reason for this is because when it comes to a fairytale setting you simply can't beat Scotland. Not only is it rich in history, character and romantic traditions but it boast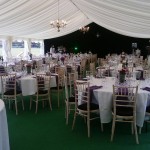 s breath taking views and magical locations. It seems every year more and more couples from England, Wales and even as far as America are realising how lucky the people of Scotland are having so many beautiful wedding locations to choose from.
These couples are attracted to the beauty of Scotland with its many grand beaches and picturesque castles. These romantic locations are their perfect wedding day venues. From the boarders of Scotland right through to the Highlands it seems everyone wants their big day at one of the many romantic Scottish locations. The trend began by many A list celebrities choosing Scotland to take their vows and celebrate the happiest day of their lives here and many others have followed. The trend does not look set to stop anytime soon as every year more and more couples flock into Scotland for their nuptials.
Back To Menus