Hello and welcome to Spitting Pig Scotland. We are well established hog roast Edinburgh caterers covering the whole of Scotland from our family farm based in the foothills of Dundee. It is the perfect setting to run our hog roasting business from. We breed our own pigs and have done for many generations which means we can guarantee the high quality of meat being supplied for every hog roast we do. We take the sourcing of all our ingredients very seriously as starting off with the best produce helps us to provide the best quality hog roasts. Have a look at our gallery and testimonials page to see for yourself the very high standards we work to.
Here at Spitting Pig Scotland we are immensely proud to provide the highest quality hog roast catering throughout Scotland. It is our pleasure to be able provide excellent hog roast catering for the entire country. Scotland is home to some of the most historic cities and areas of natural beauty in the world which attract tourists from every corner of the earth. Glasgow is the largest city in Scotland and is one of the most densely populated cities in the entire United Kingdom. This means one thing; a lot of people need feeding.
This is where we come in. There is no job too big or too small for us. If you are having a Glasgow hog roast party for 50 or a hog roast in Edinburgh for 500 or maybe even a hog roast Dundee, we can help. Hog roast Scotland realise the demand for good food, especially in one of the biggest cities in the UK, and we are more than capable of meeting the needs of the people.
Hog Roast Fife

Year after year the Edinburgh Festival attracts hundreds of thousands of people from up and down the country and is one of the most popular and traditional festivals around. The festival includes the Edinburgh Military Tattoo, the Edinburgh International Film Festival and the Edinburgh Comedy Festival. These are just a few of the festivals that take place throughout August in Scotland and offer a great choice of entertainment to suit everyone. Catering for a variety of different needs is often one of the most difficult things to do. But if you do it right you are on to a winner. The Edinburgh Festivals have something for everyone to enjoy which is what makes them so popular. The key to being successful is making sure you take into consideration every bodies different likes and dislikes.
In terms of variety and suitability, we feel we also have something for everyone. It doesn't matter what kind of hog roast Edinburgh event you are hosting at what location; we are your perfect catering solution. The best thing about Spitting Pig Scotland is that we have a selection of menus that are perfect for everyone. If you don't like menu one then do not fear; take a look at all our other options that are available to you. Our menus vary in size, formality and taste. We also offer a selection of vegetarian options; which some people find strange considering we specialise in a hog roast in Glasgow. We feel that we have everyone's needs covered. We are also more than happy to personalise any menu to meet your specific needs. Choosing Spitting pig Scotland will leave you spoilt for choice.
Hog Roasts Can Cater For Any Occasion
One thing that Scotland is renowned for is its areas of national beauty. Scotland is split into three main areas; the Highlands, the Central Lowlands and the Southern Uplands. All of these areas provide some of the most stunning scenery in the UK and offer a complete alternative to the hustle and bustle of the big cities. Dumfries, for example, is located in the Southern Uplands which is extremely lowly populated. However, what it lacks in population it certainly makes up for in scenery and wildlife. Dumfries is one of many gateways to the Scottish Southern Uplands. One of the most important things for us here at Spitting Pig Scotland is that food that we serve is as stunning as the location it is served in. We feel that our food is the perfect match for a country as beautiful as Scotland. We are based in and do hog roasts in Dumfries so know all about the local area and we are very proud to cater for such areas. The food that we specialise in is Scottish hog roasts.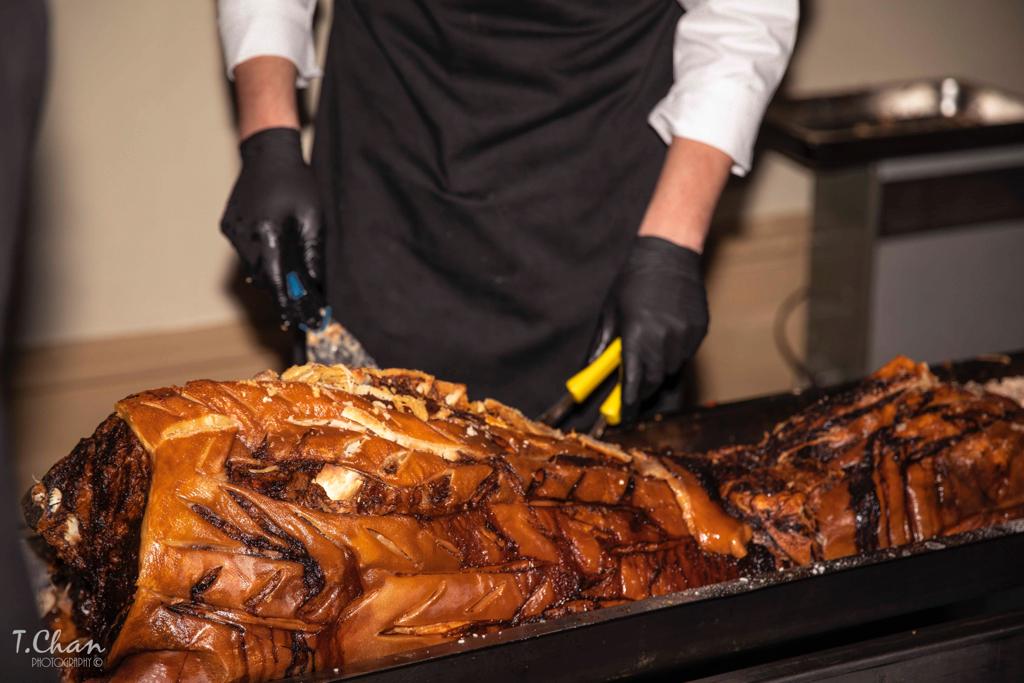 We have a selection of Dundee hog roast and spit machines that can cook a variety of meats to perfection. Whether you are looking for a delicious spit roasted pig for your wedding of a variety of meat for a hot buffet our machines are the ones to do it. Our machines are top of the range and are operated by one of our professionally trained hog roast chefs.
These chefs know just how to get the best out of the machines and always deliver succulent and mouth watering meat that everyone will love. If you order a spit roasted pig then the meat will melt in your mouth and be accompanied by the crispy crackling from the outside of the pig. Put together they are a match made in heaven. The way we cook our meat not only means it tastes good; it also looks the part too. The sight and smell of any meat slow cooking on one of our modern stainless steel machines is as spectacular as the views in the Southern Uplands.
Find out more about Scottish Hog Roasts
The true sight, taste and smell of a Scottish hog roast is a site to behold. We provide the very finest service you will find for a hog roast in Scotland. We are based just North of Edinburgh and cover the whole of Scotland from our base. My name is Steven and with my dedicated team lead by myself and helped by mum and dad, we are Scotland's premier hog roast catering team. We do not profess to be the cheapest hog roast in Scotland but we do give a very good value for money service and go above and beyond the call of duty to make sure every single event we do provides a memorable day for you and your guests for all the right reasons. So whatever the occasion and whatever the menu we are the people to provide the solution.
Catering for events across the country has allowed us to widen our knowledge of the great Scotland that we live and work in. We have been working in partnership with some of Scotland's leading event organisers doing hog roasts in places such as a hog roast Edinburgh, a hog roast Glasgow, and even a hog roast Dundee, which has really allowed us to develop as a business. The more events that we cater for the better we become at understanding what people are looking for when hiring outside catering. Every event has thrown up a different challenge for our team of planners and chefs but have come through them all with flying colours and ultimately a better catering company. It doesn't matter what hog roast event we cater for, we treat each one with the same amount of respect and put in the same amount of time and effort.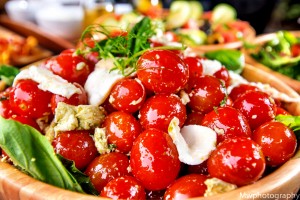 There is no reason for us to treat one event different from another. Maintaining exceptional high standards for each individual event ensures that we maintain and enhance our glowing reputation throughout the country. We make sure that everything from the locally sourced meat that we use to the disposable napkins that we supply are the best around. We leave no stone unturned when catering for your event which makes us one of the most complete catering solutions around. Meeting your specific needs and making sure that you are happy is our primary concern. One of our event planners will be assigned to your function from the first time you enquire about the services we offer.
These planners will go through the entire planning process with you and ensure that we provide everything that you want and/or need. For example we have great choice of menus ranging from Edinburgh hog roast party menus to Dundee hog roast weddings and Glasgow hog roast corporate ones. These menus may seem like they are set in stone but the actually aren't. If you like the look of one menu but think it needs a few things adding to it then we are more than willing to that for you. The customisation of our menus is possible in order for us to meet your specific needs. If you want something changing or you are not happy with a particular aspect of the food then let us know and we will do everything we can to ensure that you are pleased with the service we are providing. We go by the common saying that the customer is always right. You are paying us for a service and it is our duty to ensure that you are 100 percent happy with every aspect of your event.
One common assumption when you think of Dumfries hog roast catering is that only pork can be cooked on our machines. This isn't the case and we can actually cook whatever meat you request. Our state of the art machines allow us to cook any meat to melt in the mouth perfection. Whether you are looking for a hot buffet with a selection of meats or want to cook a roast beef dinner for the family our machines do it all. The Paisley hog roast machines along with our qualified chefs know just how to cook different types of meat to perfection. We feel that one of the key aspects of making good high quality food is making sure that everything is fresh.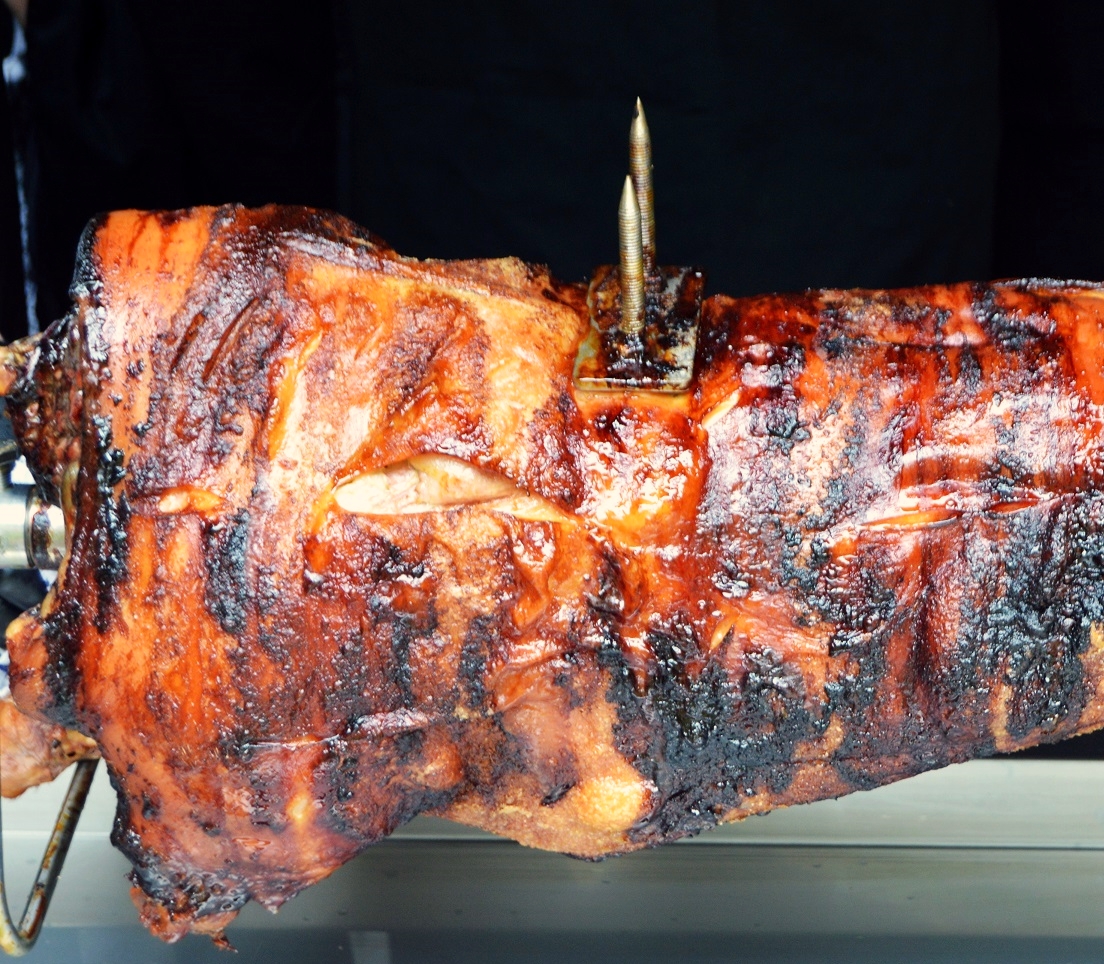 Attempting to locally source our meat is one of the best ways of ensuring that everything is fresh. Scotland has some great local butchers that we look to when sourcing our meat. Along with making sure that the food is locally sourced we also cook the meat on the day of your event. On average a hog roast takes about six hours to cook. This means our professional chefs arrive at your a long time before it begins to make sure that the meat is cooked properly. One of the best things about having hog roast catering is the sight and smell of it.