Yes, it was great. Ann Reaper was very helpful before it. One the night, the food and the friendly couple who set it up and served it were everything we'd hoped for. I wouldn't hesitate to recommend you and use The Spitting Pig again.  Many thanks, Sarah
Sarah Fraser – Inverness
*************************************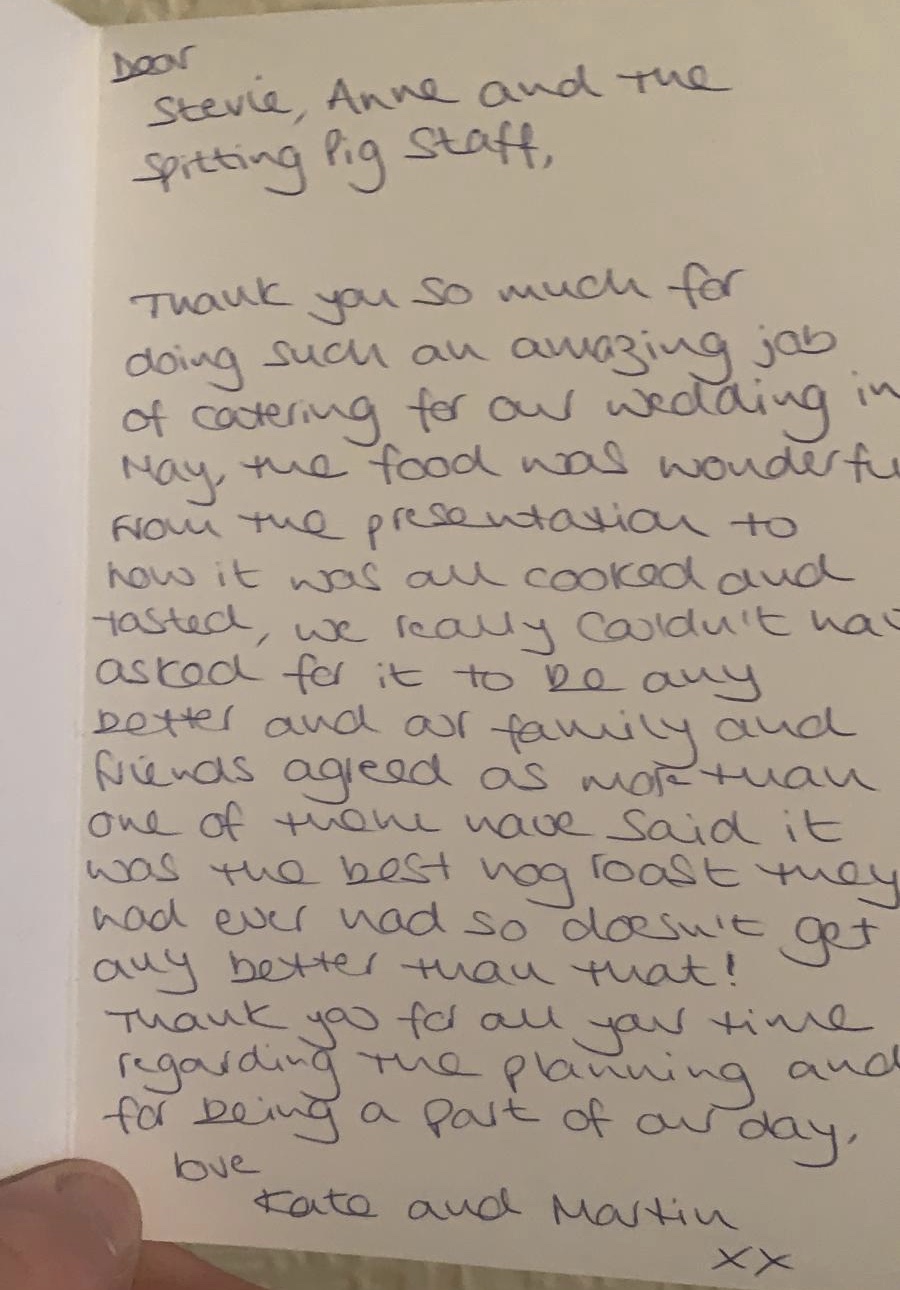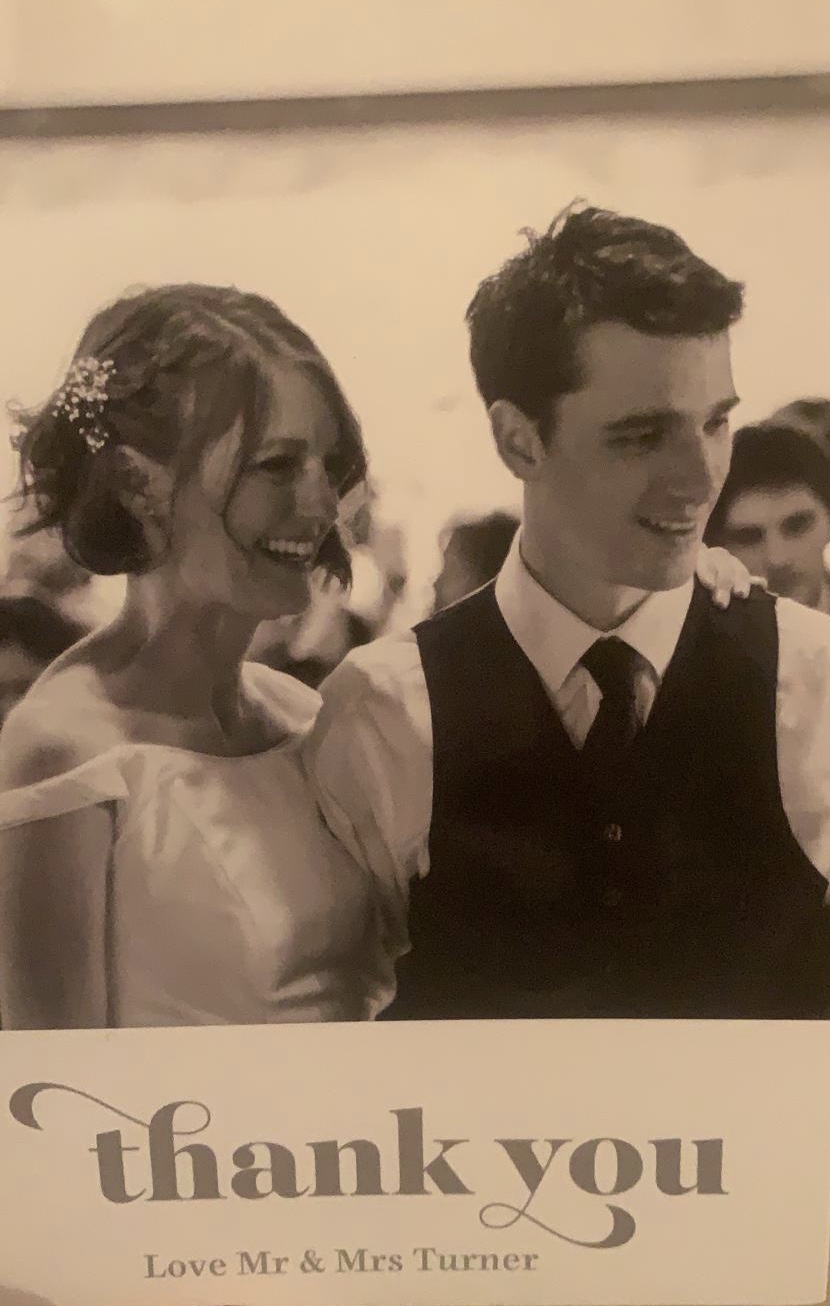 *************************************
Hello Anne,
I am so sorry for taking so long to get back to you.
Thank-you to Spitting Pig for a superb evening, delicious food executed well and served timely. I had a lot of very good feedback on the food. And the leftovers kept us fed for a wee while! 
Apologies again, this past year has been very hectic.
I hope you are keeping safe and well. Here's to a very busy summer for us all.
Best wishes,
Claudia – Finzean Hall
*************************************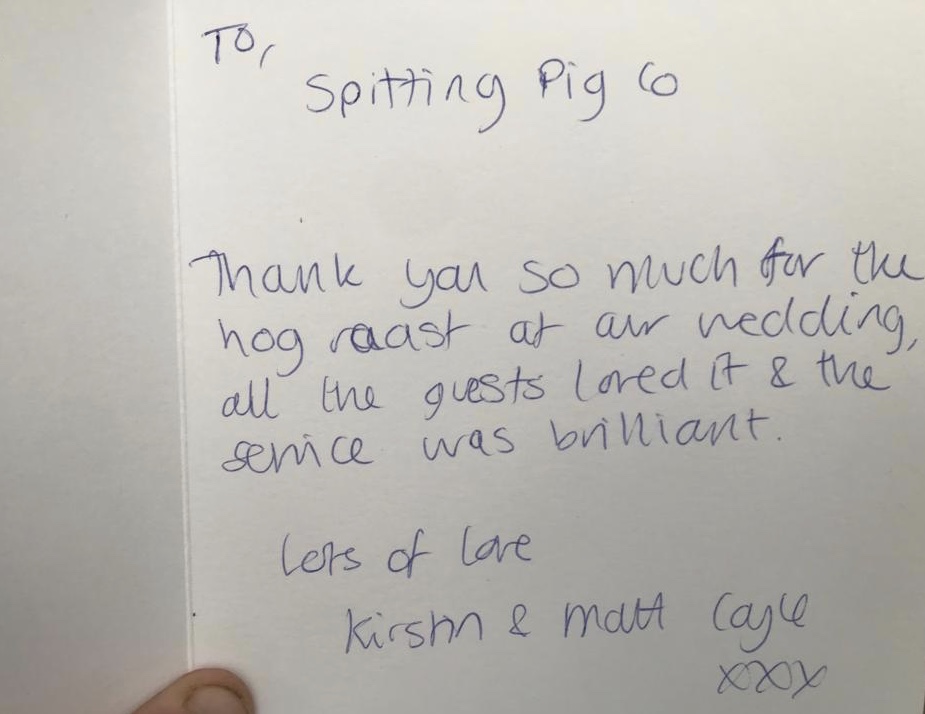 *************************************
Hi, Thank you for getting  in touch, our feedback is as follows:-
Prior to event
Excellent communication and product option information
During event
Great! Fast, professional, friendly and reliable service
Kind Regards
Helen MacKenzie – Draeger UK
*************************************
Hi Anne & Steven,
Delilah and I have just got back from honeymoon. I just wanted to say a massive thank you for your help and work on our wedding day! The food was absolutely brilliant and lots of guests commented about how great it all was, so thank you very much! Also, thank you for clearing up so well at the end, that was really appreciated! You were so professional and helpful, thank you! It was truly fantastic! 
I'd love to leave you some great public feedback. I think you are on Facebook so I can do that later.
All the best,
Mr & Mrs Emerson – St Columba's by the Castle Scottish Episcopal Church
*************************************
Dear all at Spitting Pig,
Having just had our first anniversary, I have been thinking a lot about our wedding day and realised I never replied to this email with feedback about your contribution.  I have contacted Anne and Stephen who I dealt with on and around the day and thanked them but also wanted to make some official feedback.
The service provided by Spitting Pig on our wedding day was absolutely amazing.  From the food itself to the presentation and service, we cannot compliment you enough.  Everything was delicious and looked wonderful.  Many of our guests commented on the standard of the food and how much they enjoyed it both on the day and in the weeks and months following.  Think most people came back for seconds which speaks for itself!
Thank you so much to all involved and I hope you are managing at these difficult times, I will be sure to recommend yourselves if anyone is looking for a hog roast.
All the very best, many thanks and kind regards,
Kate and Martin Turner
*************************************
Hi Anne,
Thank you very much for your email and the address. Married life is lovely thank you!
Stevie did indeed do us proud on our wedding day, the food was all so delicious and many of our friends and family who were there have said how much they enjoyed it and that it was the best hog roast they have ever had so please pass this on to Stevie.
I will look at the best way of sending the photos of the food on the day to you as there are some lovely ones.
Thank you again for all your help and hard work, it was very much appreciated.
Wishing you all the best,
Kate and Martin x
*************************************
We ordered a Hog roast from Spitting Pig for our 125th anniversary celebrations. They did everything they promised, delivered the  machine and carcass on time, set up the machine and fully explained to our staff the best way to get great results and it all well went really well.
We were concerned that there would be enough food for everyone but in the end 90+ hungry golfers were more that satisfied with some left over.
We would have no hesitation in using their services again and are planning another "Roast" soon
Fred  – Club Captain
Alyth Golf Club
*************************************
Just like to say the job you all done on my daughter's wedding on sat night ( Laura Smith ) was simply amazing; guests were talking about quality and service was excellent and I thank you for your help with lobster; keep the amazing work going I will recommend your company to anyone.
Graham and Stella – East Lothian
*************************************
Hello,
The wedding at the weekend was a great success. Everyone who attended said how great the food was and how friendly the staff were!
We were really pleased with the food and impressed with the all-round service provided by Spitting Pig Co, from our initial enquiries, booking, amendments through to the serving and cleaning on the day. Will definitely recommend and use again.
Have left a public review on Facebook too.
Thanks again,
Have a good weekend.
Tom & Judith – Edinburgh
*************************************
Hello,
Excellent food, friendly staff and overall a great experience having a Hog Roast for the first time.  Everything was done efficiently and quickly from arrival, set-up, prep, serving and tidying up.  A great service, thank you.
Kind regards,
Sharon
A Proctor Group Ltd – Perth
*************************************
It was all great, many thanks indeed. Everyone working was cheerful and helpful.
Food was delicious and the set up all looked great in the garden.
Will definitely use again.
Thanks, Fiona – Edinburgh
*************************************
Despite the bad weather the food was excellent and plentiful and served with a smile.
Was good to see the staff knew the origins of all their produce too.
Great service and value, would recommend Spitting Pig
Pauline – Royal Yachting Association Scotland
*************************************
Hi
The client loved the food thank you, said the service was great aswell.
Thank you for helping last minute!
Kind regards,
Abby Magill – www.offlimits.co.uk
*************************************
A fantastic service – customer service fantastic
All customers loved the food
Will use again for our next event
Thanks again
Ross Kidd – Barrett Steel
*************************************
Hello!
Sorry for being late with doing this – it's been a hectic couple of days!
We wanted to say a huge thank you to you guys for helping to make our day so lovely!
The food was amazing and thanks also for the vegetarian/vegan/gluten free assistance. Lots of people commented how nice the food was and how friendly your staff were.
So many thanks for all your help.
Helen – The Glencorse Centre
*************************************