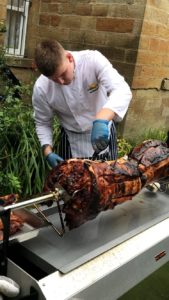 Spitting Pig Scotland is a truly family business run by myself, Steven Reaper, with the help of my dad John and mum Anne from our family farm in Balmullo which is just outside St Andrews in Fife. We have been providing sensational Spitting Pig Hog Roasts to the whole of Scotland for 10 years. No Scottish event is complete without a hog roast roll!
The farm has been in the family for many generations now, we are proud to say we currently have 3 generations working on the farm and we will always ensure that farming and our family business, Spitting Pig Scotland, stays within the new generations of the family.
One of the most enjoyable aspects of hog roasting for us is that we get to see a lot of the country as the work we do is spread all over Scotland. As well as getting to see a lot of the countryside, we also get to see some of the more picturesque, hidden away places that are off the beaten track. When ordering food for functions we try to use local suppliers as much as possible. All our pigs are reared on our own farm and are a Gloucester old spot cross. Whenever possible we also provide our home-reared beef and lamb for our functions.
All our pigs are carefully chosen for each event and matched with the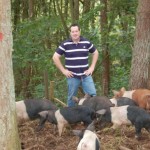 correct accompaniments. The fruit and vegetables that we use widely come from local farms whenever possible. We buy our soft, fresh rolls from the bakery who deliver them to us, which always saves a trip to Dundee early in the morning. We have been making our own apple sauce and sweet chilli sauce since we first started out, which is better than any alternative that you can buy, they are just not as good as our homemade version.
Individual Catering Experiences
The amount of time that is spent organising a function depends on what the menu is. If it is simply a hog roast in St Andrews with sauces and rolls, this often just requires a phone call to the baker. At the other end of the scale are functions like weddings, which include canapés, meat, potatoes, vegetables or salad, desserts, teas and coffees and evening buffets. Functions like this usually take two days to organise, as orders need to be placed and picked up; staff need organised; timings need worked out and sometimes crockery and cutlery need ordered in advance. During the busier times of the year, it is possible to do a number of functions on the same day. We have six machines and have done, in one day, eight functions, which takes a lot of organising simply because of the logistics of who goes where, when and how?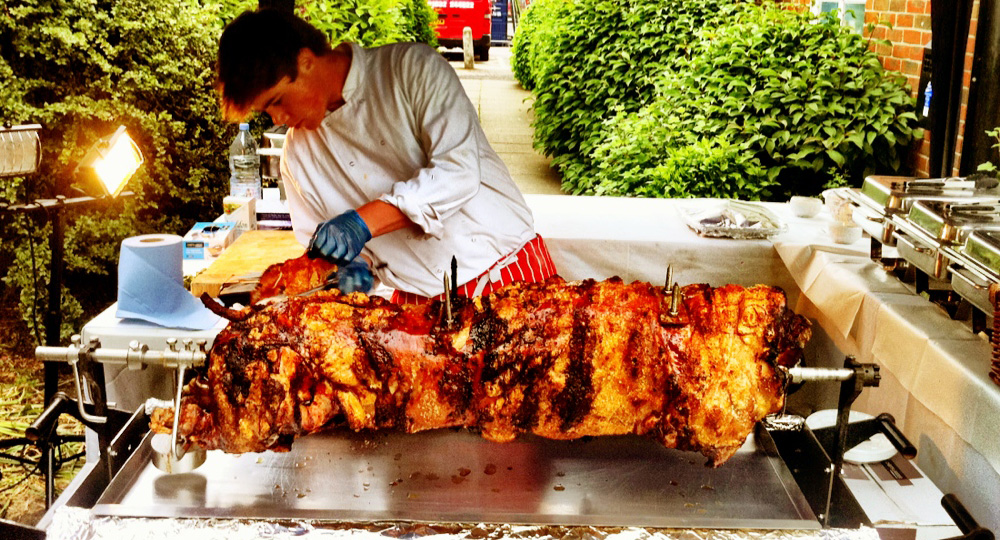 A high degree of care, time and attention goes into each stage of our event catering services, from transporting our equipment and ingredients to the venue, to preparing and serving our food, and clearing up after the event. As we always cook our meet on-site, we will arrive at your venue several hours in advance of when you want the food to be served. We will set up our hog roast equipment in our designated catering area and get on with what we do best – producing a deliciously succulent hog roast topped with irresistibly crunchy crackling!
The process of cooking our hog roasts is a patient and delicate one that requires the expertise of our chefs to get the cooking time and temperature just right. How long we cook the pig for depends on its size of course, but we always take this into considerate when planning our day and we will be ready to carve and serve the meat right when you want us to. The spectacle of watching us prepare the meat in our eye-catching hog roast machines is always a hit with our diners and of course, everyone absolutely loves the end result!
Experienced Catering Teams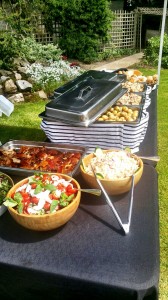 At the end of the day when the job is done, everyone is fed and you've driven home, you have to wake up the next morning to the cleaning up. This is the least enjoyable part of Hog Roasting but is just as important as any other. The rubbish gets disposed of; the machines get stripped and cleaned; all of the dishes get washed, dried and put away; and the linen gets washed and folded. Working in the catering industry we have to do a lot of travelling to different locations across the country. This is definitely one of the perks of the jobs.
Spitting Pig Scotland is located near St Andrews making it very easy for us to get around the country. This location gives us excellent access to towns so that we can do a hog roast Glasgow and a hog roast Perth not to mention the major cities, often in the same day. Locating our company in this location has allowed us to cater easily for the entire nation for years. Every town that we visit has something different to offer from the next one and it a real privilege that we get to experience the best that Scotland has to offer. From local parties who want a hog roast in Dingwall to the highlands festival we have seen it all.
For example we have been able to attend some of Scotland's many festivals whether it is music festivals or local charity fairs we have been there to help. We do a lot of hog roast catering in Dundee and hog roasts in Kirkcaldy and one place that we always enjoy visiting is Lockerbie, especially in the winter months. In December alone we do a St Andrews hog roast at host a Singers Christmas Concert, Edwardian Christmas trips to Beamish and Dundee Christmas Farmers Market. These are the kind of events that we often cater for. Local and national festivals are warming to the idea of using a Dundee hog roast for the catering at their events.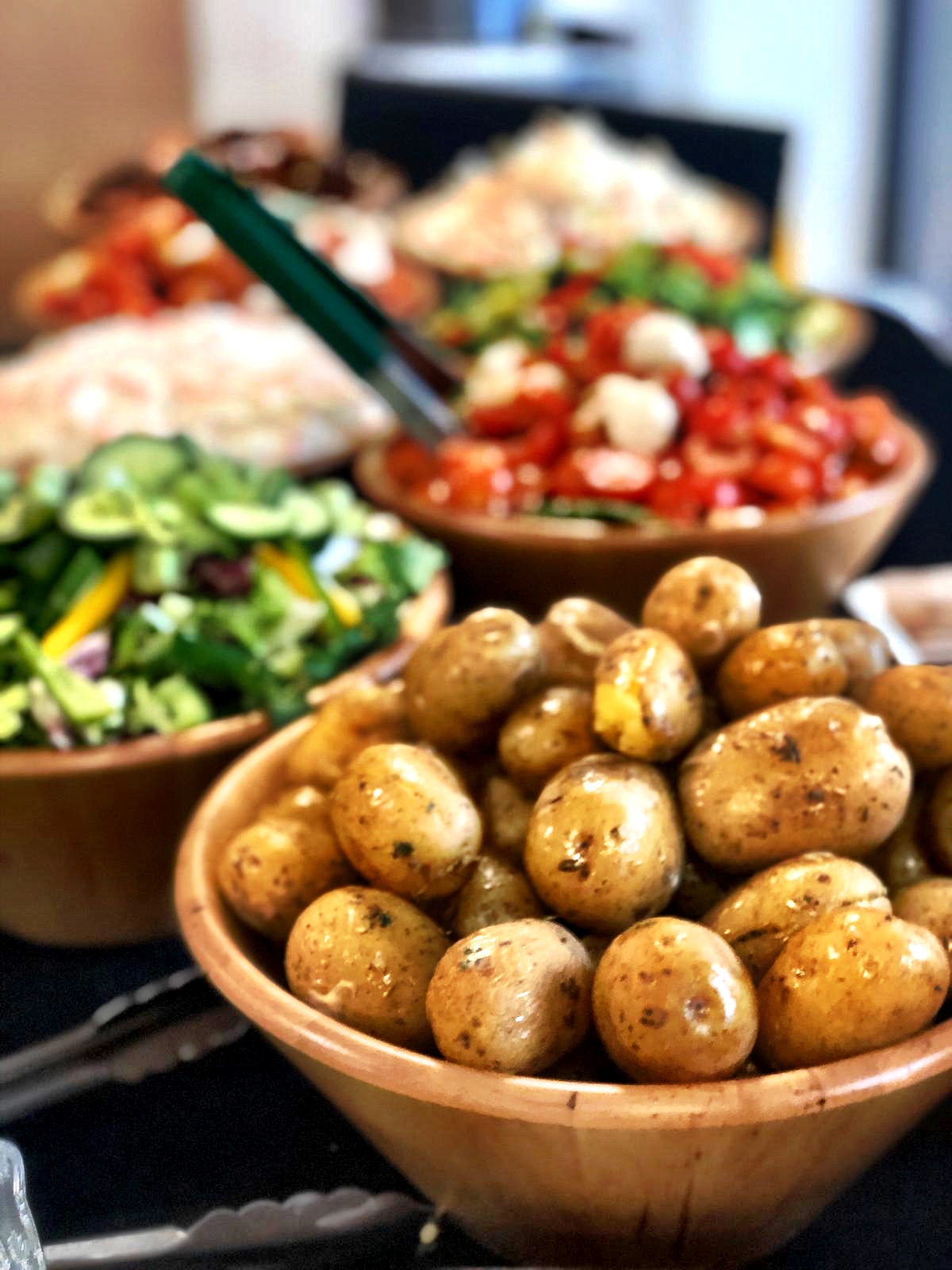 To make your dining experience at any event perfect we also offer a team of waiters and front of house staff, depending on what menu you choose. Some of our menus include waiters who will attend your event in order to assist the chefs in serving all the guests. Our waiters are responsible for making sure everyone is fed and that all the waste and rubbish is cleaned up at the end of the event. Event the little details such as providing cutlery and napkins is covered by use. The less things you have to worry about the better. Making sure that your day is perfect is our main objective. Whether we are catering for your Wedding and you want everything special or we're catering for your corporate event and you want to impress potential clients then we have the food and service that can do it.
Everything from the best food to unrivalled customer service and wonderful theatrics created by our spit roasting machines is enough to make everyone's day perfect. So if you are looking for a catering company that goes the extra mile to make your day the best it can possibly be then you've found it. We make sure that every aspect of your party planned to the last detail and we won't settle until we know that we can't do anything else to make things even better.