There are few more important celebrations than a bridal shower, a baby shower, or an engagement party. The one thing these three events have in common is they commemorate a life-changing event, and if you are a sister or maid-of-honor, it is usually your responsibility to plan these festivities and you want it to be perfect. Whether you are considering an indoor or outdoor event, formal or informal, you are not alone. We are here to help you plan the most spectacular event possible, and we are committed to providing you with the assistance you need to pull it off.
First, our planners will work with you in order to map out what you need and what you want within your budget. No detail will escape us. Choose from our extensive menu, including free range pigs (upon request), lamb, beef, chicken, turkey, or a combination. For the vegans and vegetarians on your list, we have options for them, as well. If you are thinking of a more informal menu, we have choices there, too. Sausage, burgers, kebabs and spare ribs can be roasted and served. Side dishes are created to compliment your main course choice, and all food is prepared fresh and on site by our trained personal chef.
Why Choose Us At Spitting Pig Scotland?
The devil is in the details, so they say, and we pay particular attention to those. Our hog roast crew is available to set up tables, linens, and dinnerware. Special requests are honored, and our team will also retrieve the remains of the meal and dispose of them discreetly, taking one more worry off of your detail list. If you are at a loss regarding venues, we can suggest appropriate locations. We can also accommodate indoor or outdoor parties, day or night, whether you're planning a breakfast, brunch, or dinner type event. The staff will arrive several hours prior to the start of the party, attending to every detail so your celebration comes off without a hitch. Your guest will be amazed at how you've gotten everything together, and by the delectable and delicious menu you've chosen.
A consultation is available via phone or personal interview at your convenience. Our hog roast company prides ourselves on our commitment to our customers, and we want you to be happy and to return to us for all the important events you wish to celebrate. Pigs are our passion, but even more important to us is a satisfied and thrilled customer. We aren't happy until you are happy. Planning an important event can be stressful, but it doesn't have to be. We will help you present an impressive and fun event sure to be enjoyed by all.
Hog Roasts And Endless Choices
Here at Spitting Pig Scotland we offer a variety of different catering solutions for all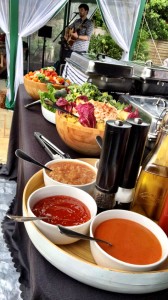 occasions across the great nation of Scotland. We offer everything ranging from small party catering, machine and large corporate event catering. If you are looking for something to eat at your local golf course or need a catering package for your birthday party then we are here to help. We cover all corners of the country from Galashiels to Dunfermline to Motherwell; there is no location too near or too far for us. Over the past 20 years we have gained a wide knowledge of the catering business and have attempted to come up with new and innovative ways of catering for all kind of events. This experience has really made us a market leader and we now feel that we are more than capable of being able to cater for any event anywhere in the country that is put in front of us.
We are always looking for a new challenge and our team of event planners and sales people are ready to plan the perfect party for you. Every member of team ranging from chefs to managers are widely experienced in the hog roast industry and know just what it takes to make the perfect party. One thing that is very popular nowadays is hosting all kinds of events at sporting venues, for example celebrating your birthday at Dunfermline Athletic FC or having your wedding reception at the local golf club. These kinds of events and locations are exactly what we specialise in. We deal with these events every day of the week and feel that we are the perfect catering for any family occasion. One thing that we understand is the stresses of organising any party. We know how difficult it can be sorting out invitations, organising the venue, hiring a DJ and making food. We can't sort your entire event out for you but one thing we can do is provide you with delicious food at affordable prices.
Read More... hide