Recently, Hog Roast Ingliston team were hired by a corporate client, ENUSEC, who were hosting an event at George Watson's College. The college was located in Edinburgh and the event was suited to a more professional environment due to the corporate nature of the event. The food was served as a buffet. The client selected the Hog Roast Ingliston team's Menu One from the selection of corporate menus offered. This menu offered a classic slow roasted hog which was cooked in a Hog Master machine to mimic the traditional cooking of the hog of spit roasting. The delicious hog meat was served with crispy crackling, homemade stuffing and classic apple sauce.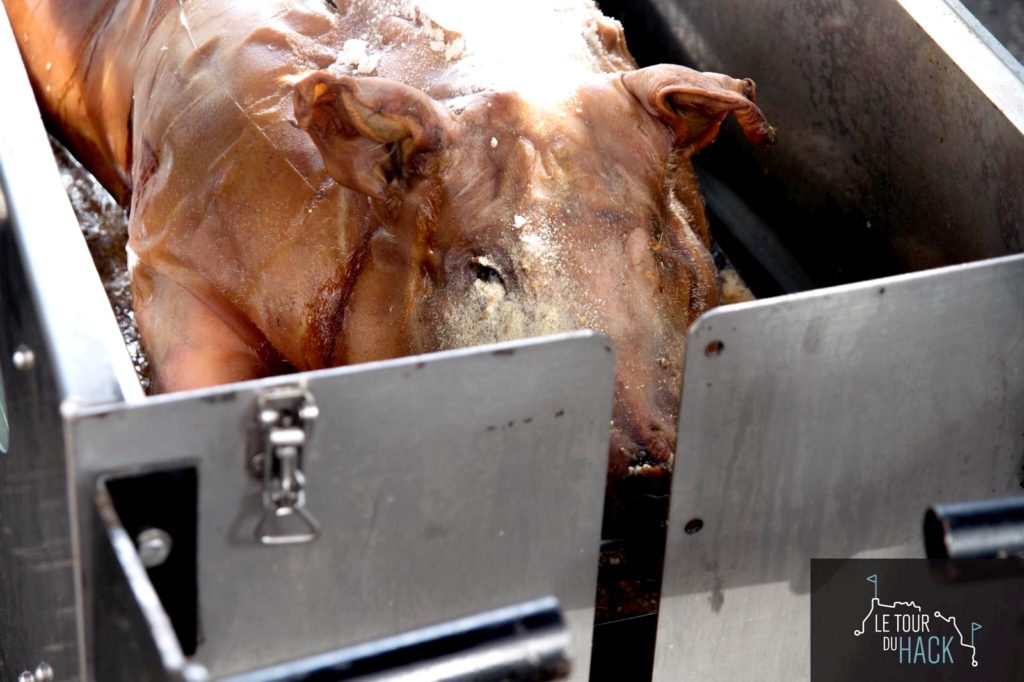 The meat was cooked evenly and seasoned well by the team's chefs. The classic roasted hog was placed on the buffet as the centrepiece and carved professionally by the Hog Roast Ingliston team's Head Chef. In addition, as an alternative to the meat, a vegetarian option was provided which consisted of grilled vegetable and halloumi skewers which were served with pitta breads and a tzatziki dip. Despite the corporate style of the hog roast, the food was still served in soft bread rolls and a selection of wraps. The meat was carved by the team's head chefs on site and so was presently really well.
The Hog Roast Ingliston team's buffet was to be served to 200 people and the serve time was 12 noon so it was important that there was plenty of food to go around as the buffet was to serve as the guests' lunch. The food was cooked on site and this ensured that everything tasted really fresh and the guests could find no fault with the food. The food was also served outside under a gazebo along the buffet table. The Hog Roast Ingliston team's head chefs worked really hard to ensure that all of the food was cooked perfectly and the service ran really smoothly. In addition, the team ensured that service was professional to suit the atmosphere of the event. The service was really successful and the team were really pleased with how the service played out.