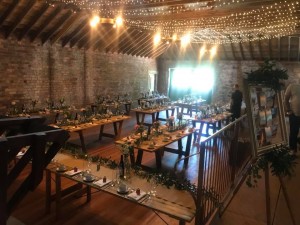 At Hog Roast Leuchars, we believe in high standards and we use only high-quality ingredients to make the best-tasting food while providing excellent service. We cater all over Scotland but recently we catered locally at a fairly new event venue called The Rhynd, near Leuchars itself. Leuchars is a lovely small town in-between St Andrews and Dundee, near the Fife coast, and The Rhynd is a nearby venue that's ideal for weddings, birthdays, conferences, concerts and all kinds of other events. The event that we catered was Duncan and Nicola's wedding, where we were asked to cook an evening hog roast feast for 100 guests.
We love a good wedding and this one was no exception, with The Rhynd being in a gorgeous farm setting in the countryside that's not too far from the beach at Tentsmuir. Hog Roast Leuchars was asked to provide our Wedding Menu 4 for the evening meal, which is more traditional formal wedding catering including a buffet hog roast but which also includes a drinks reception, handmade canapés, plated starters and desserts, as well as tea and coffee.
Our team arrived hours before service in order to prepare and cook the food, with the hog being first, as it takes a good long while to roast to perfection. The venue had been decorated beautifully, with fairy lights on the ceiling and foliage and vases of flowers on the tables. The exposed brickwork of the event space makes it charming and rustic, and adds to the overall atmosphere.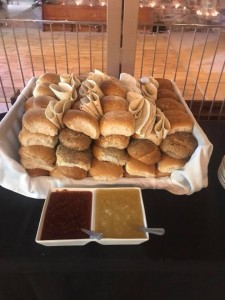 Hours after cooking the locally sourced pig, Hog Roast Leuchars could then start on the other, quality ingredients, as we were making roasted potatoes and putting together garden-fresh salads to be enjoyed alongside the main course. As is usual, we provided different kinds of fresh rolls and wraps so that the guests could enjoy pigs in buns too, plus plenty of sauces. Our dessert station looked inviting and absolutely delicious, with several desserts such as meringues, crème brûlées and brownies included, all waiting to be devoured, and the bride and groom's wedding cake would be served too.
All in all, it was a big success and we had a ball catering for Duncan and Nicola's special day!