Hog Roast Aberdeen are available to cater for any types of events from weddings to birthdays to corporate lunches and even festivals. Not only that but because the style of cooking we employ, where we slow roast your meat for several hours in one of our custom-made machines, we are able to tailor your meal for any number of guests producing succulent, mouth-watering results very time. As if that wasn't enough Hog Roast Aberdeen can also cater virtually anywhere in all weather conditions. Hence when we were recently asked to cater for an event for four hundred people in the carpark of Dyce train station – we simply could not refuse!
A more unusual setting, catering from platform 2 car park of Dyce train station but we here at Hog Roast Aberdeen were more than up for the job! Our task was to serve up to four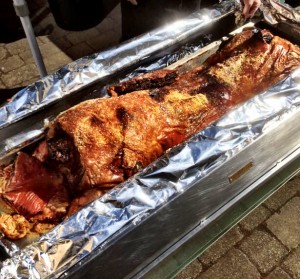 hundred people from 6am to 9am with our delicious food to brighten up their mornings as they begin their commutes. We made plenty of bacon and sausage sandwiches that sizzled away on our hog roasting machine – drawing the hoards in and for many people providing the morning wake up they needed to get on with their day after a delicious start. Of course, we also made lots of vegetarian sausages to the delight of our vegetarian guests – so we really did have something for everyone meaning no one was left going hungry on their way to work.
Everyone who went by was drawn in by the scent of bacon and sausages cooking away nicely, and we were pleased to be able to put a smile on people's faces during their commute. We were asked many times if we would be back again to provide such a scrumptious and wholesome breakfast, to which we replied that we would be more than happy to. The team at Hog Roast Aberdeen had a great start to their day putting smiles on people's faces and food in their bellies so of course would relish any opportunity to cater for this type of event again in the future!