Hog Roast Larkhall's caterers spent Sunday afternoon helping our clients, Angus and Eva, celebrate their nuptials with an authentic Celtic ceremony, which was complete with handfasting, candle-lighting rituals, Ceilidh dancing and traditional Scottish attire!
Over 200 guests had turned out to witness the happy couple wed at the cliffside venue, and our role as the nation's best-loved catering service was to deliver each and every one of them an exceptional quality meal that suited their taste buds to a tee. And while we don't mean to toot our own horn (too much, anyway), to say we smashed this service would be, well, a bit of an understatement!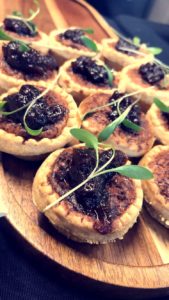 Living up to the wedding party's high expectations, Hog Roast Larkhall served our Wedding Catering With Canapés And Drinks Service Menu, which stole the hearts of many that day. With a selection of yummy pre-dinner nibbles to enjoy with a glass of the good stuff, the guests were in their element even before the main course options were rolled out. And with two mains for meat-lovers to choose from, not to mention a vegan-friendly option of BBQ pulled jackfruit rolls with a vegan coleslaw, there was no shortage of choice for the guests.
The mouth-watering hog roast, which was paired with crackling, stuffing and sweet homemade applesauce, and the juicy roast chickens were a huge talking point all afternoon. The guests were simply amazed by the depth of flavour and the tenderness of the meat options available, which was accentuated even further by the side dishes. Everyone was in agreement that the homemade coleslaw, light and leafy salad options and garlic and rosemary seasoned roast potatoes were the perfect accompaniments to the main.
Once the guests had polished off their plates, Hog Roast Larkhall's catering manager, Steve, did the honours of slicing the wedding cake and dressing it in fresh cream, berries and a summer fruits coulis before serving it as a buffet for the guests to help themselves to. Meanwhile, the rest of the team discreetly tidied away the leftovers from the main course before leaving Angus, Eva and their guests to enjoy the rest of their evening.