Whilst Hog Roast Paisley offers catering for all type of events, did you know we also hire out our own hog roasting machines that we manufacture ourselves in the North West? Hiring one of our trusty machines is the perfect option for if you want to impress your guests as the machine does all the work so you are guaranteed a delicious roast every time! Or perhaps you run your own catering business and want to branch out into the ever-expanding hog roasting business? Then by hiring one of our machines you will get to work with the best equipment on the market and your clients will surely thank you.
This week Andrew contacted Hog Roast Paisley as he had been planning a surprise party for his wife as they were celebrating ten years of marriage. They had, in the past, been to some of our Hog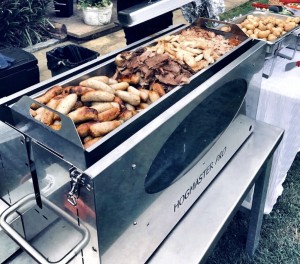 Roast Paisley events and had always commented on how delicious and well prepared the food was. However, for his anniversary, Andrew really wanted to go the extra mile and do something special for his wife and as over the past ten years she had always cooked his dinner he wanted to repay the favour with his very own Hog Roast Paisley. After being in contact with our team Andrew chose to hire our Hogmaster Pro, one of our smaller machines but perfect for private functions. Our team showed up the day before Andrews event to give him a crash course in hog roasting and show him how the machine worked. We also delivered a pig for him to cook which he was grateful for.
As it turns out Andrew was a natural! Upon collecting the machine, a couple of days later he had nothing but praise. Apparently, his wife had been so impressed she has already made him agree to cook another Hog Roast Paisley on their next anniversary!