As this year's summer was one of the best in a long time, Emma and Jack celebrated their 10th year wedding anniversary in style by hiring Hog Roast Dunkeld to complete their house party. Before the guests started to arrive, the Hog Roast team had everything set up and running so that their friends and family could walk into the garden and find a brilliant, sizzling hog roast awaiting their arrival.
Emma presented her guests with bottles of champagne and directed them towards the mountains of food that made up their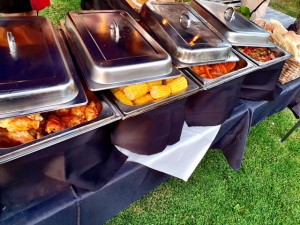 hog roast buffet. Their guests were not underwhelmed by the huge variety of meats and sides that had been freshly prepared and cooked on site by Hog Roast Dunkeld's team. None of Emma's or Jack's guests were disappointed and the comments the team received were all fantastic and they all offered glowing reviews. The brilliant aroma emitting from the hog roast was enough to ensure that all the guests returned for more portions and the Hog Roast Dunkeld team ensured that there was plenty of food to fill all of their guest's stomachs. Emma and Jack could rest easy knowing that all of their guests had been satisfied and no one was going home hungry.
Moreover, by hiring the hog roast, Emma and Jack knew that they could relax and leave the buffet to the hog roast team and concentrate on enjoying their anniversary without worrying about whether the guests were growing bored or the food was running out or that things wouldn't be cooked in time. Instead, the couple could sit back, relax and party with their guests without the stress of catering.
Once the hog roast had been finished off by the guests, Jack had one last surprise for the party. As the sunset over the hills that scattered the horizon, completing the beautiful view from their garden, Jack presented his ten year wedding gift to Emma, a diamond necklace, as traditional. The fantastic gift completed the brilliant atmosphere, created around the party's hog roast, and the guests left the party after thoroughly enjoying the night.