It is no secret that the Hog Roast Berwick team love to cater weddings! There is just something about the way they bring people together in celebration and it's the beginning of many happy years together for the special couple whose day it is. This Saturday we were out with our trusty hog roasting machine to cater at Matt and Katies wedding.
They had chosen Hog Roast Berwick to cater as they knew from sampling our menus that we could really offer something for all their guests, despite any dietary requirements. They also enjoyed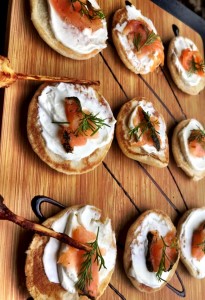 the fact that we would be able to provide some extra spectacle to their day by having a hog slowly spinning away as we roasted it on the spit and thought this would fit into their wedding well. It's safe to say no expense had been spared for their special day! The theme was simply 'extravagance' and this was reflected by the venue, a large great hall and the decorations which were gold flowers and shimmering silver chandeliers. We would be catering from the banquet hall and it had been adorned with the finest cutlery and tablecloths. Our Hog Roast Berwick team had been given a section from which to roast the hog so that all of the guests could view it and get their taste buds going for the main meal.
As the guests arrived we served some of our homemade canapés of wild mushroom bouchees and smoked salmon whilst the couple and their family had the official wedding photographs taken. Then it was time for the main course. We served plate after plate of tender spit roasted hog served alongside seasonal vegetables and rosemary and garlic potatoes. For this event we made sure to prepare enough food for people to have seconds as we know people are usually surprised at how hungry they are after such a long but brilliant day. All that was left to do was wish the happy couple well and discretely pack away leaving the guests to enjoy the night…