After months of scorching hot weather, it was a bit of a shock to the system when the temperatures dropped to their usual pre-autumn levels over the weekend. But the chill in the air certainly didn't do anything to dampen the spirits of Tom and Julia who had called upon Hog Roast Loch Tay to help them celebrate their 10th wedding anniversary!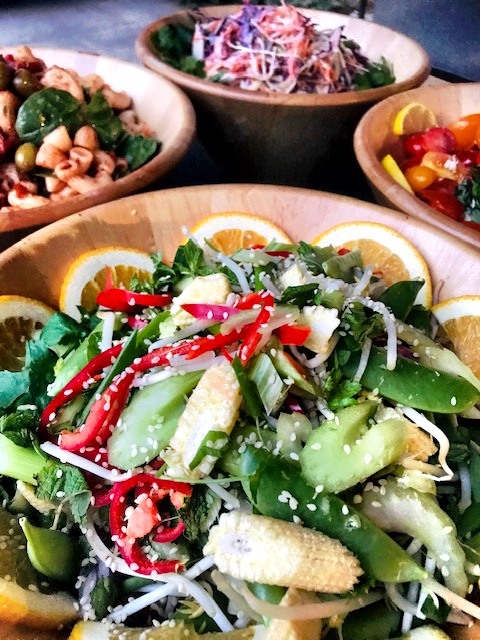 To commemorate the special day, the pair had asked our catering crew to serve our classic hog roast feast with a few extras on the side to spice up the menu, making it more inclusive for the 25 guests who were going to be attending the celebration. As always, this was no trouble at all for Hog Roast Loch Tay, and after talking the couple through our expansive selection of side options, they eagerly opted for our warm new potatoes in herb butter, mixed fries, our chef's own gourmet sausages and a couple of meatless alternatives which consisted of BBQ pulled jackfruit and grilled veggie skewers. Yum!
The team were given a warm reception when they arrived at the client's home to get started on the evening meal, and while the happy couple relaxed inside, Hog Roast Loch Tay worked tirelessly to transform the wholesome ingredients into the flavoursome feast that everyone had been looking forward to for several weeks! Our experts didn't take long to get things set up, and before anyone knew it, the pig was piping hot and ready to be carved up and served to the sea of hungry guests who had arrived a little while earlier.
It was an absolute honour for our Hog Roast Loch Tay team to be able to serve at Tom and Julia's tin wedding anniversary party on Friday, and we are so pleased to have been able to help them pull off an unforgettable evening! Not only was the meal delicious (not that we're bragging or anything…okay, maybe just a bit!), but it was also a saving grace as the steamy pig made the outdoor event far more bearable for the guests who had been disappointed with the bitter chill in the air.