Whilst many brides and grooms are understandably postponing their wedding until a later date due to current restrictions on social events, some couples are still determined to get married when they originally planned and are wiling to compromise on the type of wedding reception they can have. This was the case for Gregg and Jacqui, who were perfectly happy with a small, low-key reception with just close family and their best friends in attendance. In order to cut down on the amount of personnel who would have to be involved on the day, they decided that they would do their own catering. This is no mean feat for your wedding day when you have so many other things to sort out, but when the best man, who is a chef, volunteered to take care of the food prep for them,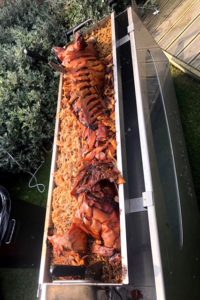 they knew it was the right way to go! The couple didn't want him to spend all day juggling pots and pans though and miss out on having fun, so they knew that they needed a fairly low-maintenance catering option that could still provide them with the quality of food that they deserved for their wedding day.
The answer came when they contacted us here at Hog Roast Portree about hiring one of our hog roast machines, and they knew immediately that they had made the right decision! Before too long, we had organised for them to hire one of our Hogmasters – a robust and reliable piece of equipment that produces a high volume of perfectly cooked pork with the minimum of effort required by the chef. This was exactly what Gregg and Jacqui wanted, and their best man turned chef for the day, was just as pleased with their choice. When Hog Roast Portree arrived on-site after the event to collect the Hogmaster, everyone was full of praise for the quality and quantity of succulent pork it had produced for the wedding party (with plenty of leftovers too!). Hiring the Hogmaster had made a massive difference for Gregg and Jacqui as it meant they could take care of their own catering for their reception, without causing their best man too much work or having to make do with lacklustre food, and the Hog Roast Portree team are thrilled that our Hogmaster was such a big hit with the happy couple!