Hog Roast Anderston were delighted when we were approached by Ben at Matpro Machinery based in Glasgow to host a two lunch events over the weekend for their staff, subcontractors, families and general public alike.  Corporate events like this are part of our speciality alongside weddings and private parties and planning is key to their success and we discussed with Ben and his team about their corporate values and what we needed to do in the day so far as setting up, menu selection and waste disposal; Matpro specialise in material processing and recycling and it was essential that our values and processes were aligned with theirs.  From the discussion, Hog Roast Anderston were to serve Our Firm Favourite Classic Slow Roasted Hog served in a Roll or Wrap and also with a vegetarian option for around 150 people per day between noon and 2pm with all waste responsibly disposed of.  Hog Roast Anderston has a selection of five menus for corporate clients which ranges from informal hog roast in a roll to buffet selections and formal, sit down dining with a very wide range of choices of food.
On the day, we arrived well before to set up our equipment and to fire up the hog roast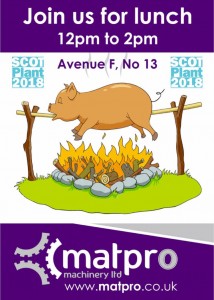 which attracted quite a bit of attention with even more apparent once the pig started to roast producing the gorgeous and mouth-watering aromas associated with a traditional hog roast.  Once the pig was ready, a steady stream of customers was served with a hog roast in a roll and with many commenting how scrumptious and delicious the meat (and especially the crackling!) tasted.  We had prepared veggie skewers as the vegetarian option which also went down very well with customers with many meat eaters also sampling them and commenting on how good they were.  After a quick and seamless pack-up we left the area as we found it and Hog Roast Anderston prepared more of the same for the next day!