Hog Roast Hawick is known for providing delicious, fresh, quality food at an affordable price and with excellent service to boot. When Jerry asked us to cater an event at the Madras Rugby Club in the lovely St Andrews, he asked for the 60 guests to be served our Private Party Menu Option 4. With this menu, first of all you choose your meat, from either hog, spring lamb, turkey, beef or chicken, or you can even have a selection of barbecued meat. Plus we also offer a vegetarian option. In Jerry's case, the choice was easy – a slow-roasted hog freshly prepared on the day and cooked for hours on-site until golden brown and juicy. With Menu 4, you also get to choose either salad or seasonal vegetables to be served, as well as a potato option such as jacket wedges, a new potato salad, warmed new potatoes in a herb butter, baked potatoes, or new potatoes roasted in rosemary and garlic. There's certainly plenty of choice and plenty of great food to enjoy with this menu.
Our Hog Roast Hawick team arrived several hours before service in order to prepare and cook the hog. After scoring the meat and smothering the skin in water and salt, the hog roast machine was turned on and the beast was cooking away, slowly but surely. Jerry asked us to cook vegetables rather than provide salad dishes for this event, and later on, we would add his veg selection to the inside of the hog roast machine and they would cook beautifully at the same time as the baby potatoes that he requested too. Our machines act like conventional ovens, so we can easily cook an entire meal in one go if needed.
Meanwhile, while the pig was sizzling in its own juices, Hog Roast Hawick could take in the surroundings and we discovered that the club is in an enviable position overlooking the renowned St Andrews Old Course.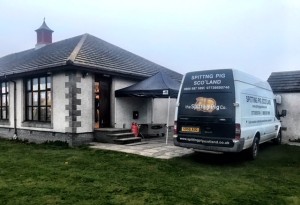 Once all the food had roasted to perfection, we served lots of hungry guests with tasty meat, veg and potatoes, all covered in our homemade gravy and accompanied by our own stuffing and apple sauce. It was clear that our food went down very well, as there were many empty plates and smiling faces by the end of our service.