Our teams are all arriving back at our farm at nearly midnight and they are emptying all their vehicles, it was time to get organized for the next day, of 5 events. The upcoming events for hog roast Tranent were ranging from wedding's and parties to supplying machines for people to experience a DIY.
One booking was for a wedding, arriving at Tranent the sun was shining and it was set in a lovely secluded garden on a lovely Estate and the ceremony was to be outside at 3.30pm.  Marquee was set up, chairs were outside for the ceremony and we started to get everything set up in preparation for the event.  The wedding party were very helpful in letting us use the kitchen of the house if we wished. We were preparing everything under our gazebo when we had a downpour at 3pm and we then had to think of a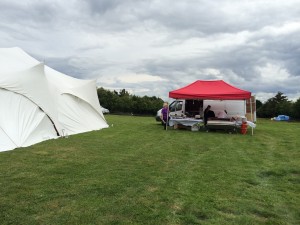 contingency plan of transferring the food etc to the marquee if the rain continued.  Knowing Scottish weather we should keep wellies in our vehicles!!  Fortunately for hog roast Tranent and guests the rain stopped and the sun came out just before the ceremony was due to start and it was then a mass rush to get all the outdoor seats dry for the guests to sit down so we helped the family to do this.
After the ceremony some female guests were having problems with getting their 5" heels stuck in the lawn but there was always a nice gentleman to help them out. Everyone was very interested in the hog roast as most of them had never seen one and they were very interested in everything relating to it, from it being reared on our farm right up to the present day of serving it at an event.  Even the kids loved it especially as they found that it still had its ears on and we had two men who both wanted the cheeks from the pig and men who loved it so much they had four helping also a few inquiries from the guests for their own upcoming events they were so impressed.
We left the remaining food and carved down the remainder of the hog roast for the wedding party to have the next day as they intended to have a BBQ. On us leaving, many guests thanked us for all we provided and were hopefully looking forward to another soon as they enjoyed it that much.
The bride contacted hog roast Tranent a few days later and thanked us for all we did to make her wedding meal go so well.  She said the leftovers went down great at her BBQ with her guests and they all had good stories to tell relating to the hog roast Tranent experience.
Anne