Another busy weekend for hog roast Gargunnock with bookings and one of them was a wedding.  Weather was great, sunshine and lovely views over the countryside. The bride arrived in a tractor driven by her father with her attendants arriving in a trailer on the back (both tractor and trailer having been cleaned and decorated). The entire wedding took place within a Tee-pee where everyone sat on covered straw bales for the ceremony which was very informal and personal to the wedding couple.
There was a kitchen area adjacent to the main Tee-pee supplied for our use which was a great and it meant that any guest who had a request could come and see if we could help, which of course hog roast Gargunnock did as they had lit a raised fire with logs, and the smoke should have gone through the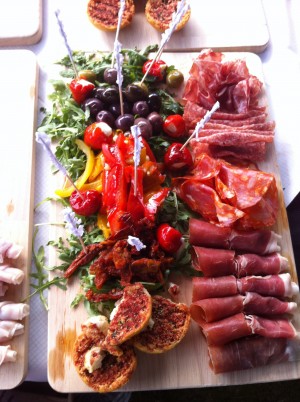 hole in the Tee-pee roof, but as there was no wind circulation the entire Tee-pee filled with smoke and everyone had to leave whilst a guest came to ask for our assistance in getting the logs out of the fire, and to douse the remaining embers.
The straw bales were cleared to the sides of the Tee-pee and after reception drinks, hog roast Gargunnock got the wedding meal under way, starting with Anti Pasti Platters & assortment of breads, which went down a storm with everyone loving them, and clean platters being returned to our kitchen area. The hog roast Gargunnock was a treat for many as they had never seen one before and they obviously loved it as there was many who came for seconds and thirds with plenty being cut down and left to be eaten later in the evening. After clearing all our equipment into our vehicles we left the wedding party having a really good time with the dance floor full of party goers.