When clients Mark and Katie contacted the team at Hog Roast St Andrews they had a special event in mind. The couple wanted the team to cater their post wedding party. The event was to be an informal celebration at Kinkell Byre; this was to be an event where one hundred friends and family of the happy couple would gather to celebrate their marriage.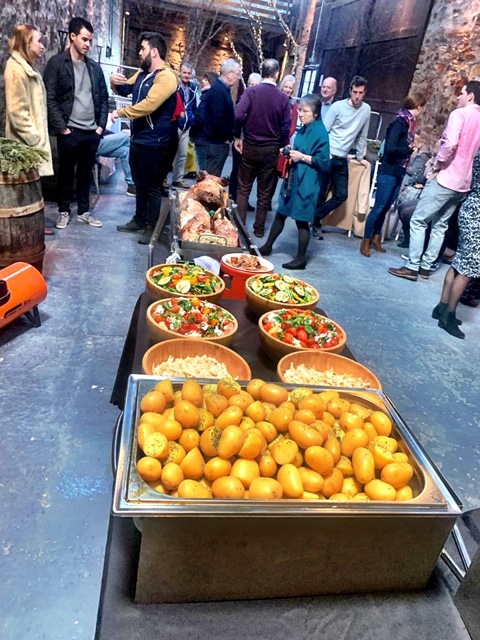 The clients wanted a menu that would be tasty, filling, informal and fun for all their guests. As such they worked closely with catering manager Steve and Chef Andy to make sure that there were suitable vegetarian and vegan food options, as some of their guests had alternative dietary requirements. The couple selected menu 3 and made sure to select some healthy, succulent vegetarian and vegan dishes from the menu options. Steve and Andy also made sure that the bread rolls would be a viable food option for all the guests, so they made sure that it was gluten free bread; Mark and Katie loved this idea and the attention to detail the team were paying to the guests dietary requirements.
Given the early serving time of 11am Steve and Andy had to be at the venue around 6am to make sure that all the food would be ready by 11 o'clock. Catering for one hundred people is by no means an easy task, particularly when the menu is so varied. But by sticking to a well-planned, perfectly ordered to do list it was possible.
As part of menu 3 list that Mark and Katie had selected, Steve and Andy were on site throughout the whole event. From the moment they prepared the platters of food and laid out the wooden crockery and cutlery, until the last morsel had been eaten, the duo from Hog Roast St Andrews stayed at the venue. At the end of the event Steve and Andy discretely tidied away and took any rubbish off site to be disposed of.
The clients, Mark and Katie, had thoroughly enjoyed their informal post wedding party and thanked everyone at Hog Roast St Andrews for their hard work. The event was a great success.