Lovebirds Andy and Jessica couldn't have picked a better time to get hitched. With the skies completely devoid of their usual murky grey clouds that threaten to dampen all social situations (literally!) with their bone-chilling rain showers; and the temperature soaring well above 20 degrees, it very much seemed like the love gods were smiling down on the loved-up pair when they took their long-awaited trip down the aisle over May's final bank holiday weekend.
Months before the special day went ahead, though, the pair, first of all, had to sort out a venue, organise a colour scheme, find the perfect attire, and arrange the catering. For the latter, Andy and Jessica had, of course, approached Hog Roast Pittenweem, and after expressing their desire to celebrate outdoors, like many other brides and grooms do at this time of year, our catering manager, Steve, quickly introduced them to our newly-landed Alfresco spread.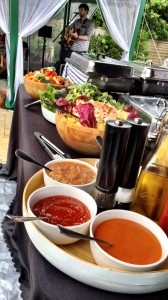 If you didn't know, this fine feast broke onto the scene back in March, and since then, it has quickly become a firm favourite for our new and old clients alike. For Andy and Jessica, the feeling was mutual. Instantly impressed by the depth of flavour and the wide range of food items on offer at such an affordable price, the pair quickly made the decision to include it in their wedding. And with their event taking place outdoors, Steve made sure to cover all bases by including a wedding marquee in the booking – just in case the weather took a turn.
But, as we already know, the marquee wasn't at all necessary on the day – though many of the guests found it to be a perfect respite from the suns boiling rays! The unusually gorgeous weather was a rare treat for everyone, including the Hog Roast Pitenweem team, as the warm weather helped speed up the cooking time of the hog roast considerably.
Andy and Jessica were ecstatic to be able to celebrate their marriage in the sunshine, and with the heat ramping up appetites, the wedding party were glad to have Hog Roast Pittenweem's wonderful spread of pulled pork and crackling rolls, chilled salads, an antipasti platter and a refreshing summer pudding to dig into.