It's assured to be a summer too remember in bonnie Scotland as our national football team finally returns to its first major tournament in 23 years. It's been a bit, eh. It's Euro fever in the north, and here at Hog Roast Kirkcudbright we're most definitely going to be boogying all summer long. We're of course all as excited as you are to back the boys in blue, and though we can't all join the Tartan Army on our European adventure this year, we'll be keeping the faith back at home in style! For the big matches Hog Roast Kirkcudbright are providing special event catering to keep your match day parties fed with the very best in roast and barbecue eating. Forget the half time pie and Bovril, Hog Roast Kirkcudbright have an exquisite feast for you instead!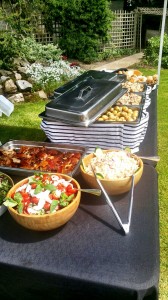 Don't miss a moment of the match. Hog Roast Kirkcudbright will keep working on outdoors or in the background while you keep your gaze affixed to the tele, and when you're good and ready you can celebrate John McGinn's first goal with a delicious, finely salted pulled pork roll, a delicious hog roast, or any range of side salads, meat platters, veggie and vegan skewers and so much more! We can deliver to homes and private parties, or even local businesses like pubs and church halls, or outdoor fan zones and gatherings – wherever you're watching from Hog Roast Kirkcudbright can keep your party fed!
We'll take care of everything in an entirely safe manner too in line with COVID guidelines too. Though it's assured to be a fiery party Hog Roast Kirkcudbright will always keep things safe so the boogying doesn't have to be spoiled. Our team are all fully trained in safety precautions and entirely professional at keeping proper measures in place. Enjoy the match knowing you're safe and comfortable with us.
And, of course, a word to Steve Clarke and the boys: "don't come home too soon" and net a goal or two against England on us. We'll maybe even throw in a rewarding hog roast feast or two if you do manage the unimaginable!