This past year has felt like a perpetual episode of Groundhog Day for many people (ourselves included!), but thankfully, things are now starting to look up!
On the 17th of May, the First Minister rolled out some major changes to Scotland's restrictions, and we're pleased to say these have made a world of difference to those with plans of hosting events soon and, of course, for us as caterers.
With most of the country now under Level 2 lockdown restrictions, our team here at Hog Roast Roslin have been able to get back to working at our full capacity, as the new rulings state that seated events of up to 500 people have been given the go-ahead; events, where the standing room is unlimited, can have a max of 250 people in attendance and all other celebrations can resume with a guest list cap of 100 names.
Since welcoming the new changes, Hog Roast Roslin has been busy taking calls from clients and customers all over the mainland who have been eager to enjoy our famous slow roasts at their events. And recently, we were able to attend an outdoor street festival, organised by Aaron.
Having obtained permission to host a larger scale event, Aaron had asked our team to prepare a menu for all 300 people who had confirmed their attendance, and with vegetarians and vegans among the mix of guests, he had also made sure to request that we include a couple of meat-free options too.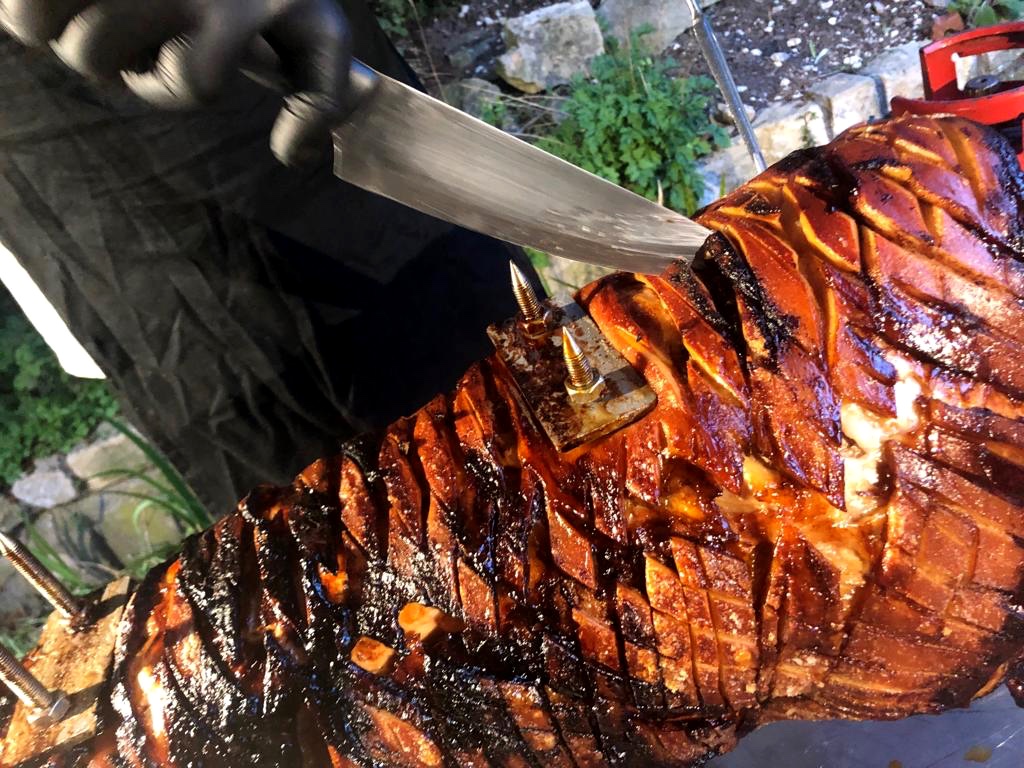 Handling the details for the occasion was our catering manager, Steve, who was quick to come up with a tasty menu that matched the client's needs perfectly. Comprising of a large, spit-roasted pig with stuffing, crackling and applesauce accompaniments, paired with gluten-free rolls, mixed salad and creamy coleslaw, Aaron agreed the menu was perfect for guests on the go.
Taking place over the weekend, Steve and the rest of the Hog Roast Roslin team arrived at the venue, where they spent the full morning working on the spread, which attendees labelled, "every meat-lovers dream" – and for those with meat-free requirements, the team whipped up some yummy BBQ pulled jackfruit wraps and grilled veggie skewers.