Our caterers had a braw time on Saturday night after being invited to attend a poetry and live music event that was held at our client, Isla's, nearby pub!
The event had been organised by Isla as a means of helping others to embrace and celebrate Scottish culture and heritage, which meant performers were encouraged to recite poetry in the traditional Scots language, play folk music or sing songs written by Scottish artists. Isla's idea quickly proved popular, as after announcing the event on social media last month, she sold out of all 75 tickets virtually overnight!
Eager to give her guests an evening they would never be able to forget, Isla then approached Hog Roast Oakley in search of the perfect menu for the occasion, and with the help of our catering manager, Steve, she found it!
Our Classic Hog Roast Menu, which offers an authentic spit-roasted pig with all the traditional trimmings, including sage and onion stuffing, chargrilled crackling, and applesauce, was perfect for the relaxed and informal evening that Isla had envisioned.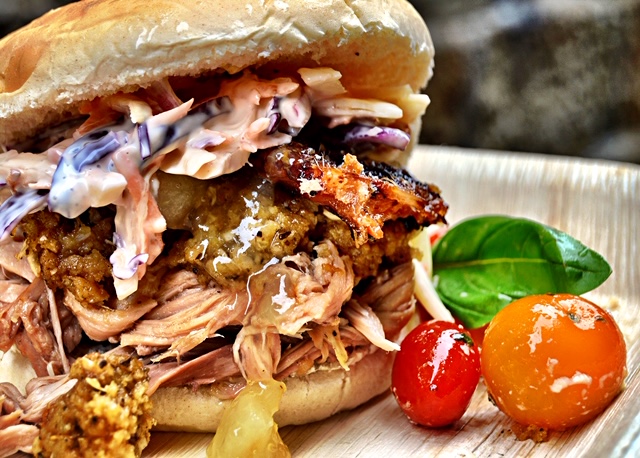 One thing the client did ask of us, though, was that we remove the head of the pig before attending the event, as she worried it may cause upset to the vegetarian and vegan guests. As always, the Hog Roast Oakley team were more than happy to accommodate the client's request, and Steve then went on to discuss the meat-free options we have available. Isla was really glad to hear about these as it saved her the hassle of getting a second caterer in to cover the plant-based meals.
When Saturday arrived, our catering crew dedicated the entire afternoon to preparing a tasty buffet of mouth-watering slow-roasted pork, grilled vegetable kebabs with optional halloumi and mixed fries, gourmet coleslaw and Greek salad for the guests. We also prepared handmade cheesecakes and chocolate tortes for dessert.
The guests had a brilliant time at Isla's event, and between the delicious food Hog Roast Oakley served and the amazing on-stage entertainment from novices and professionals alike, they each went home with a huge smile plastered across their faces!