Alfresco catering is incredibly on trend in 2022 and is ideal for outdoor celebrations or sunny receptions! With three courses of delicious dishes to enjoy, it is a versatile and delicious menu that includes something for every guest to enjoy. When booking in for Hog Roast Avoch's alfresco menu, here is what you can expect…
Alison and Mark have been together since they first met at work in 2008 and were finally ready to tie the knot in 2022! The couple hosted their ceremony in the church that they both attend, as this was something that was incredibly important to them both. For the reception, they wanted something less traditional and more relaxed, with plenty of delicious catering for their 100 guests to enjoy. After looking through our menus, it was decided that our alfresco catering package was the ideal choice since it includes three courses of delicious dishes!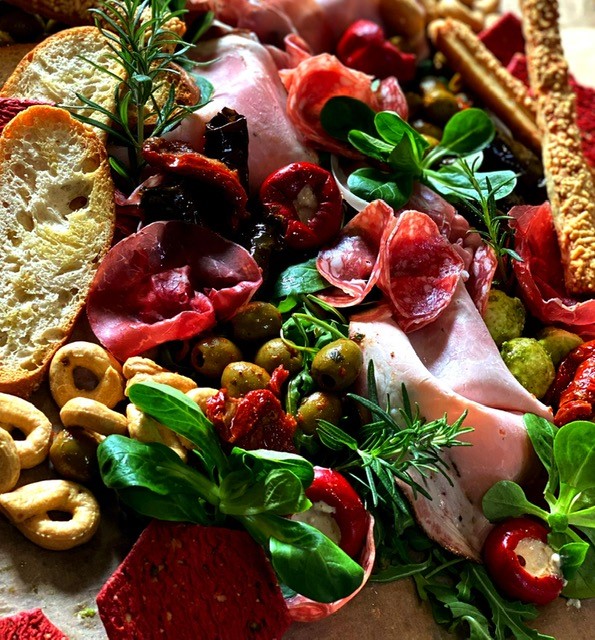 On the day of the reception, our catering manager Steve arrived at the venue early to prepare the catering. He began by preparing the sharing platters for the starter, which were served tableside to the guests. The platters consisted of a selection of gourmet meats and cheeses, as well as fresh salad and bread. This is a great starter for introducing your guests to our catering and providing a selection of delicious tastes and textures.
The main course was a Hog Roast Avoch speciality, including a slow-roasted hog and all of the trimmings. We prepared seasonal vegetables, roasted baby new potatoes, sage and onion stuffing, and fresh gravy to create a tasty and balanced meal.
The catering package ended with dessert, which was served tableside to the guests. The final course included sticky toffee pudding and profiteroles, with both dishes served elegantly with fresh cream and berries.
Are you looking for a caterer for your wedding in 2022 or 2023? If so, get in touch with Hog Roast Avoch today to find out what we can do for you.  Simply let us know your party size, date, and location and we can do the rest. We hope to hear from you soon!