After watching disappointedly as Rangers FC left Seville empty-handed after losing the Europa League final to Frankfurt in what was a nail-biting match, fans of Scotland's fourth-oldest football club were extremely anxious in the days leading up to the Scottish Cup Final.
As the team prepared to play against Hearts for the chance of winning the coveted silver trophy, many loyal Gers fans rallied together to support their club from the comfort of their own homes. Among them was life-long Rangers supporter, Darren, who had invited a small group of friends and family over to watch the game on a projector screen in his back garden.
Fortunately for the group, the weather, though grey and gloomy, stayed clear all afternoon. But just in case it showered, he had asked Hog Roast Clackmannon to bring along one of our smaller marquees for him and the guests to shelter under. Of course, the marquee wasn't the only thing we brought to the table – literally!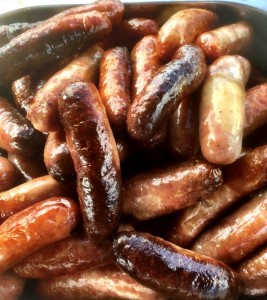 First and foremost, Darren had hired Hog Roast Clackmannon's caterers to serve some sensational scran at the low-key event! From our selection of mouth-watering menu plans, the client had opted for our Gourmet BBQ menu, which saw us serve a finger-lickin' spread that consisted of our handmade 100% British beef burgers, our chef's own gourmet butchers sausages, succulent chicken kebabs and BBQ meaty marinated spareribs with Greek salad, homemade coleslaw, freshly made sweet potato and regular fries and pasta salad side options.
Darren and his 15 guests, who were high on adrenaline throughout the game, were glad to have something tasty to sink their teeth into as they watched the match from the edge of their seats.
With neither team scoring in the first 90 minutes, it was looking more and more likely that this game, too, would end with penalties – that was until Rangers managed to score two goals during extra time, which resulted in their victory over Hearts! Darren and the guests erupted with excitement, and celebrating the much-needed win, they set off fireworks and topped off their plates with more delicious grub from the buffet table that Hog Roast Clackmannon had prepared.