In honour of Eddie's 75th birthday on Thursday, his friends at the local polo club had organised a surprise party for him, and they had asked Hog Roast Newtonmore to help out with the food.
Since Eddie is such a prominent fixture of the polo club and regularly spends his days there, a lot of people had understandably wanted to come and wish him well on his milestone birthday. And including Eddie's family members, this took the total number of guests up to around 110 people.
Left in charge of the catering arrangements while the others handled things like the decorations, cake, booze and presents was Eddie's old pal of 50 years, Jack, who had reached out to us several weeks before the party went ahead to submit a request for our Alfresco Menu. Our catering manager, Steve, was all too happy to help out, and working together, he and Jack ended up tweaking the menu ever so slightly to better suit the needs of everyone involved. In the end, this meant swapping our usual charcuterie board for a platter of fresh-made finger sandwiches, with a choice of fillings which included Scottish salmon, ham and cheese and roast chicken.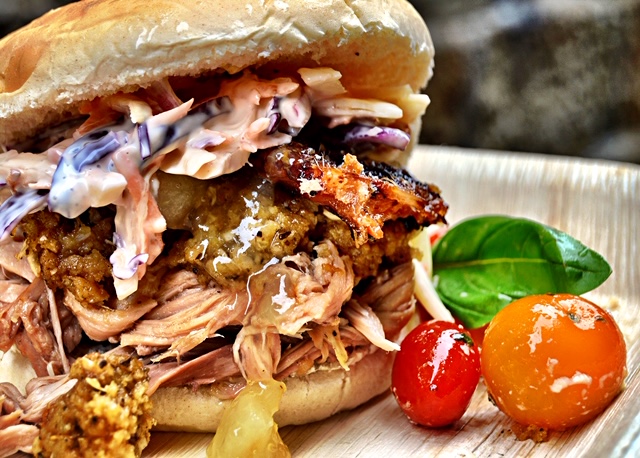 The sandwiches were well received, and kept everyone occupied for an additional hour whilst the Hog Roast Newtonmore team finished off the main course, which consisted of a flavoursome, rotisserie-cooked pig served with crackling, sage and onion stuffing, applesauce, side salads and traditional fries. With it being so close to Christmas, Jack had also asked us to include our homemade mince pies with brandy cream for dessert, with an additional cheesecake option.
Eddie was blown away by the whole affair, and once everyone had finished clearing their first plate, he stood up to thank everyone for coming to celebrate his birthday. He also showed his gratitude to Steve, and the Hog Roast Newtonmore team for "keeping everyone's bellies full and a smile on their faces with the best hog roast spread he had ever tasted in his 75 years of life", which, as you can imagine, was a huge compliment!