If you're looking to have an awesome night out in Dundee, look no further than Duck Slattery's Showbar! Dubbed the city's most exciting venue, the dance and sing-a-long waterhole never misses the mark when it comes to bringing party animals together for an unforgettable night on the town! And because they are always looking for new ways to thrill their guests, they decided that in the lead up to Christmas this year, they would host an Xmas carvery followed by free entry to their iconic Club Tropicana. Every. Single. Saturday. Of. December!
Having previously relied on one of our sister branches to manage the catering for a similar event of theirs back in 2019, the Duck Slattery's crew were no strangers to our services when they approached Hog Roast Carnoustie in November. And, as a result, they knew they could count on us to make their weekly events a success.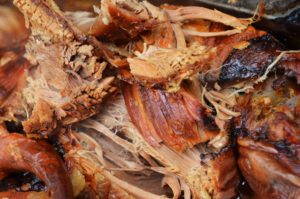 Anticipating 300 guests every Saturday night for the entire month, Hog Roast Carnoustie's catering manager, Steve, spent a little bit of time going over the goals and expectations that the event planner, Paul, had in mind. At this stage, the client requested the exact same menu plan as what had been served to them in 2019 because the guests had loved it that much. The feast in question was our Classic Hog Roast Menu, served with additional festive dessert options of traditional mince pies with brandy cream and homemade chocolate gateaux and cream.
The Hog Roast Carnoustie team had our first encounter with the Dundee hotspot on the 4th of December, and we've thoroughly enjoyed going back every week since then to serve our flawless slow-roasted pork buffets with crackling, stuffing, applesauce, coleslaw and gluten-free rolls. For the veggie/vegan ticket holders, we've been making grilled vegetable skewers with the choice of added Greek halloumi cheese chunks, fresh-baked flatbreads and a tangy tzatziki dip.
The guests have absolutely loved the experience, and as well as being able to stuff their faces with some delicious scran, they've had a grand time taking part in exciting giveaways, hitting the dance floor and belting out Karaoke classics.