It was Mitchell and Annemarie's 20th wedding anniversary on the 4th of December, and hoping to mark the special occasion properly, the pair had decided to return to the very same venue where they had previously hosted their wedding reception all those years ago! They had also invited 150 people to join them in celebrating the milestone event, and as a result, they were in need of a first-class catering service to ensure everyone was kept fed and happy all evening.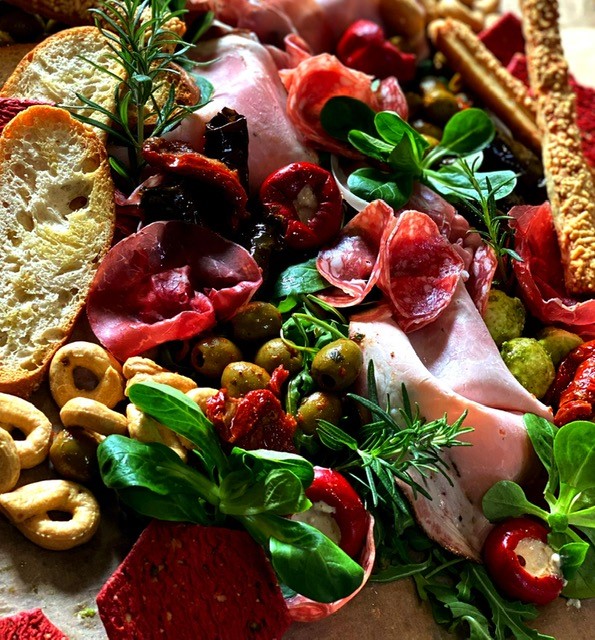 Hog Roast Newmilns' team were the lucky lot to land the job, and we couldn't have been more thrilled to assist Mitchell and Annemarie with their big day! Choosing from our vast selection of group dining solutions, the couple picked out our highly-regarded Alfresco Menu, which covers all bases and allows guests to satisfy their every craving with gorgeously arranged charcuterie boards followed by a traditional hog roast and sides, plus a pair of divine desserts. To accommodate the needs of Mitchell and Annemarie's non-meat-eating guests, the team also made sure to include 15 portions of our grilled veggie skewers with tzatziki dip and flatbreads on the menu, as well as 5 of our BBQ pulled jackfruit rolls.
The party took place on the first Saturday of the month, and Hog Roast Newmilns, as always, was on-site long before any of the guests made an appearance. The five-hour cooking window we had, went by in a flash, though, and it wasn't long before Annemarie and Mitchell's friends and family flooded the dining hall.
With everyone eager to taste the food, Hog Roast Newmilns had to work quickly and efficiently to serve up the scrumptious feast to the guests, and we're very happy to say that it went down really well with everyone!
Mitchell and Annemarie had a wonderful evening, and, for an extra dose of sentimentality, they played their original wedding playlist for the guests to dance the night away to. They had even managed to source similar decorations and props to what was used on their big day. The results were amazing, and, for many of the original guests, the entire night was like taking a trip down memory lane!