Hog Roast Keith has spent many years helping our customers celebrate and commemorate various occasions, and we're well-versed in catering both private parties and corporate ones. When it comes to corporate hospitality, we can easily cater small and large events, from a handful of people to several hundred guests, and with a range of menus and options available, so that means everyone invited can enjoy our delicious food. We specialise in catering both personal tastes and special diets, so whether you're thinking of booking us to make our amazing hog roast rolls, a three-course meal preceded by canapés and welcome drinks or a menu that includes a veggie option, we've got you covered.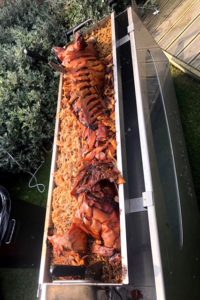 For a business lunch that Hog Roast Keith catered locally recently, we were asked by our long-term customer Bill to make our pigs in buns, just like we've done in the past for his company. This time, however, Bill said he needed a gluten-free option for two of the forty-five guests. While our professional, hard-working chefs can create dishes to suit all kinds of diets, when it comes to our pigs in buns, you actually don't need to miss out, as they are suitable already, except for the bread rolls, so we just need to bring along gluten-free bread rolls. Bill was delighted with this and asked us to do so on the day.
When our Hog Roast Keith chef and catering assistants attended the event yesterday, the sun was shining and the weather was nice and warm, so ideal for outside catering. We set up our equipment and got to work preparing the hog to be roasted, by scoring it, covering it in water and smothering in plenty of salt, and then it needed to slowly sizzle away in its own juices for the next few hours. We were due to serve at 1pm, and by 12.30pm, the beast was perfectly cooked inside and out and resting while we prepared our tangy apple sauce and yummy sage and onion stuffing. We sliced the gluten-free bread rolls and our usual ones separately, set out our condiments and serviettes, and then it was time for the hungry hordes to start queuing up for a tasty bite.