Recently, the Hog Roast Fife team were hired by Mr and Mrs Brackenridge for their beautiful wedding day. The couple had hired Blyth Gall in Newport-on-Tay for their wedding venue. The venue was fantastically luxurious and looked stunning on the couple's big day. The food was to be served to the guests from a fantastically laid out buffet table. It was really important that the buffet was faultless to ensure that the couple's big day was flawless.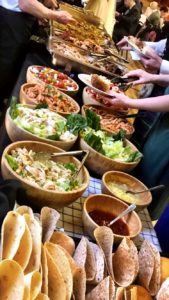 The couple selected the Hog Roast Fife team's Menu Four for their wedding celebration. Mr and Mrs Brackenridge had chosen the slow roasted hog for the buffet's centrepiece. The fantastic hog meat was served whole on the buffet straight out of the team's Hog Master machine. The meat was carved on the buffet table by the team's Catering Manager and the crispy crackling was carefully removed and served onto the buffet table. In addition, the meat was served alongside the traditional sides of apple sauce and homemade stuffing. Furthermore, as with all of the team's hog roast buffets, they served a selection of bread rolls and wraps to help create a casual atmosphere around the buffet. Moreover, a selection of sauces and fresh salads were served alongside the delicious meats. All of the guests appeared to really enjoy the food, especially the bride and groom.
The buffet was served from 5pm onwards as the evening service by the Hog Roast Fife team's Catering Manager, Steven. He ensured that the cooking and preparation of the food ran smoothly and that all of the team were on schedule with their food. The cooking and preparation itself was undertaken onsite to ensure that the buffet harnessed a really fresh taste and all the meat was really tender from being cooked in the Hog Master machine. The buffet was served to 100 wedding guests and so it was important that there was plenty of food to go around. Steven was really pleased with the service his team delivered and was happy that he could help to make the newly-wedded couple's day as special as it could be.