Fresh air is good for the soul, and now that spring is in full swing, we've had the pleasure of being able to soak up the better weather since most of our customers and clients have been hosting their events outside lately!
Among our wave of recent bookings came a request from Sandra, who had been tasked with planning a cocktail fest on behalf of her local community. The event was for ticket-holders only, but with tickets selling for just £5 per head, hundreds of people were keen to join in the fun!
Naturally, this meant that Sandra needed a diverse food solution to keep the guests from going hungry. And hoping to make sure everyone felt included and catered to, Sandra had asked Hog Roast Holytown to serve our Gourmet BBQ Menu, which offers four perfectly-grilled meat options, a vegan/vegetarian alternative and a few side dishes.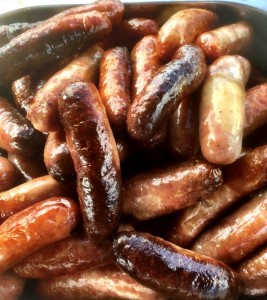 With the festival kicking off at 12pm last Saturday, our catering manager, Steve, with help from the rest of Hog Roast Holytown, began preparing the food several hours in advance. Using the HogMaster, they expertly grilled handmade beef burger patties, gourmet sausages, chicken kebabs, BBQ marinated spareribs and grilled vegetable and halloumi skewers over a low flame until they were cooked through and lightly charred for an extra smokey flavour. For the sides, they cooked up a batch of sweet potato and regular fries and chopped and tossed fresh veg and Feta cheese in a bowl with extra virgin olive oil to create Greek salad.
By midday, the town centre was abuzz with colour and movement. Professional dancers and fire-eaters had been hired to weave through the crowds and entertain the guests, live music blared from a makeshift stage while master cocktail makers showed off their impressive drink-making skills from behind a series of different stalls. There were also competitions, free goody bags and prizes to be won for all those who bought tickets.
The event couldn't have gone better, especially because of how much the guests loved the food Hog Roast Holytown served, which was fresh, tasty and full of flavour!