When it comes to providing gorgeous food all over the country, Hog Roast Gorebridge has it covered. We travel the length and breadth of the land of the brave to ensure your party or event is catered to the highest standards, whether you're holding a birthday party at home in your back garden, a posh wedding in a stately home or castle or a huge corporate event at your business premises, with hundreds of guests to feed.
Just recently, we catered Mr and Mrs Hill's party at the wonderfully romantic, historic Melville Castle in Midlothian. Just a few miles from Edinburgh, you'll find this renovated wedding and event venue, situated in lovely, quiet countryside. We've catered here before and could never tire of the views or the quirky castle and its enchanting rooms. The castle has a fascinating history, with Mary Stuart, Queen of Scotland, a frequent visitor in the 16th century, and even Queen Victoria was a guest in 1842.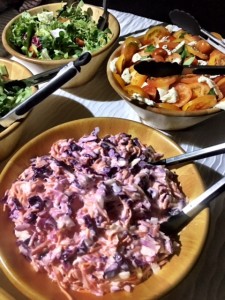 For this April party, we were asked to provide our Private Party Menu Option 2, which is the Southern Slow Roast Menu. There are various marinated meats to choose from with this particular menu and Mr and Mrs Hill requested barbecued pork butt, beef brisket, sticky pork ribs and Cajun-spiced chicken, which are served with a selection of sauces. We also offer a choice of side dishes with this menu and the couple selected corn cobettes with melted butter, crunchy coleslaw, mac & cheese, skin-on whole jacket potatoes and sweet potato wedges, as well as a green leaf salad. No one would be going hungry at this party!
On the day of the event, Hog Roast Gorebridge arrived at Melville Castle several hours before the late evening food service. We lovingly prepared the meat at the venue and then cooked the hog until the meat was juicy and tender and the skin had turned a lovely golden brown colour, all covered in salty crackling. We breed our own pigs which always produce high-quality, tasty meat.
Between 8.30pm and 9pm, once all the delicious food was ready, our Hog Roast Gorebridge team served the 120 guests until all their bellies were full.