Hog Roast Haddington are always delighted to be hired to cater wedding reception celebrations, so when the happy couple got in contact with catering Manager Steven at Hog Roast Haddington he jumped at the chance to cater their wedding reception. The soon to be newly-wed clients wanted a tasty, vibrant buffet for their 60 guests to enjoy.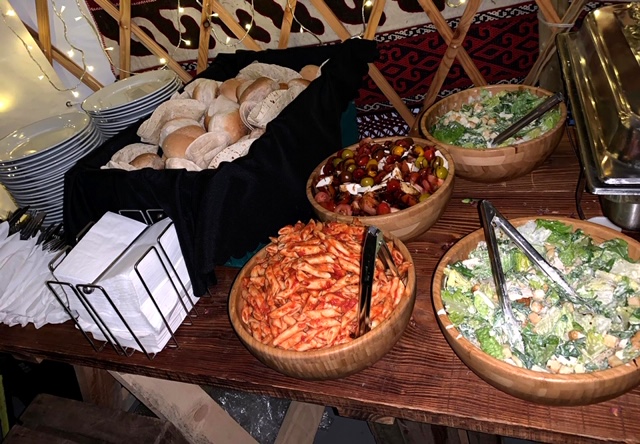 The menu the clients based their selections around was generic Hog Roast wedding Menu 4. This standard, generic menu was then tailored to their specific needs, catering budget and dreams. The menu for the buffet had a whole host of tasty dishes on offer for the guests. These dishes included grilled vegetable skewers, a tempting tomato and mozzarella salad, pasta salad, classic Caesar salad, and large quantities of scrumptious baby roasted potatoes. Yet the main attraction at the buffet table was the firm favourite: the Classic Hog Roast. This classic slow cooked Hog Roast was complete with all the trimmings: fresh apple sauce, homemade stuffing and a deliciously crispy, crunchy crackling.
On the day of the event the team of two from Hog Roast Haddington worked hard together to set up the catering gazebo, their equipment and finally to begin the preparations of all the lovely dishes. The duo worked in well-oiled synchronicity and had all the tasty treats ready for the 6pm serving time. As well as making all the dishes on site the team set up the china crockery, metal cutlery and high quality disposable napkins for the guests to use; all of which had been provided by the Hog Roast Haddington team as part of the catering package the clients had selected.
The food was ready to be enjoyed at 6pm, and all 60 guests made sure to try out all the lovely, piping hot, lovingly prepared food. The clients were thrilled that they had said I Do to Hog Roast Haddington for the catering at their special event.Once the guests had enjoyed the food the team quietly tidied away, taking with them all the rubbish generated, leaving the clients free to enjoy their special day. The whole event had been a marvellous success.