Navigating Scotland's unpredictable weather can be quite the challenge, to say the least, what with its penchant for displaying all four seasons in a single day! But at Hog Roast Glencoe, adaptability is our forte, and we always ensure that no matter the meteorological mood swings, our events go off without a hitch.
Our secret weapon against inclement weather? Spacious marquees that stand as faithful guardians against any sudden downpours or unexpected gusts of wind. This assurance provides our customers and clients with peace of mind, knowing that their meticulously planned outdoor events won't be derailed by the elements.
Take our most recent event, for example, which saw lovebirds, Eva and Ryan, exchange vows in the embrace of nature's beauty. As the Scottish landscape painted a breath taking backdrop of rolling hills, serene waters, and towering trees, only close family and friends, totalling twenty souls, joined the couple for this intimate outdoor wedding.
The day unveiled itself with a crisp yet sunny spell, setting the stage for a ceremony that celebrated love amidst nature's splendour. But as vows were exchanged and hearts swelled, the heavens began to rumble. Grey clouds amassed, signalling an impending storm. This is where Hog Roast Glencoe's meticulous planning kicked in.
Our marquee stood ready, an oasis of rustic charm amidst the impending tempest. A wooden table adorned with fur throws, illuminated by the soft glow of fairy lights, beckoned guests to gather. And what a feast awaited them!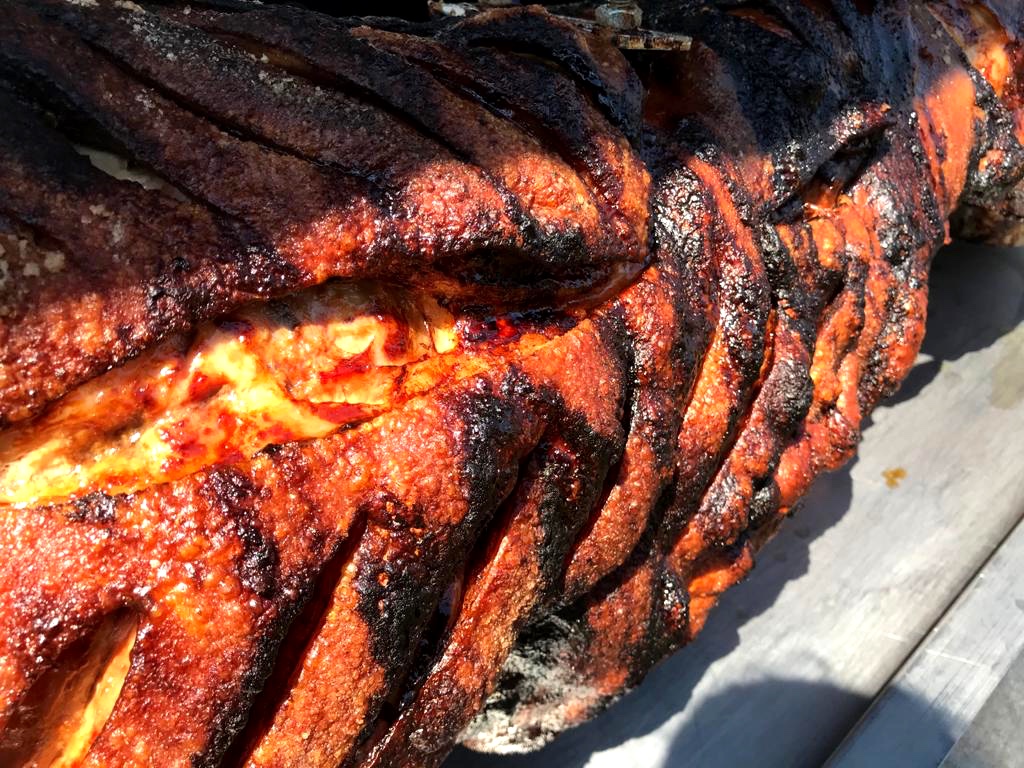 The piece de resistance: Hog Roast Glencoe's succulent suckling pig with crackling, accompanied by stuffing, and an abundance of sweet and zesty applesauce. Roasted new potatoes, dressed in a crispy golden coat, mingled with mixed salads and coleslaw to create an explosion of flavours. Even those partial to plant-based delights were indulged with grilled veggie kebabs, tzatziki dip and warm flatbreads.
As the storm outside waged its battle, the warmth inside the marquee was tangible, not just from the camaraderie but from the satisfaction that comes from an exceptional meal. The culinary masterpiece was gracefully concluded with slices of wedding cake, adorned in fresh berries and a swirl of fresh cream.
Eva and Ryan's special day was a testament to Hog Roast Glencoe's commitment to ensuring that – come rain or shine – every moment, every bite, is a memory to be cherished.