When you're planning your wedding day, you may decide on a wedding planner or event coordinator to organise much of the day for you, to take the stress off your shoulders. Here at Hog Roast Edinburgh, we often work together with planners and coordinators to ensure that your special day goes without a hitch in terms of the food served. Regardless of whether a bride and groom-to-be ask us to provide tasty food for their big day or their planner or coordinator does, we go the extra mile to prepare, cook and then serve the food of your choice. We have plenty of menus to choose from and you can even tailor your own menu if you prefer, so we can create the food you always wanted to be served for your wedding meal.
Hog Roast Edinburgh recently had the pleasure of working together with wedding coordinator Shannon, to plan the food for a wedding at Dalhousie Castle Hotel in Edinburgh. For up to 50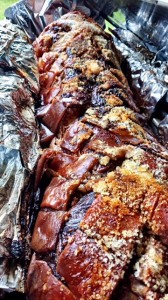 guests, the couple wanted our highly popular Menu 1 of pigs in buns and a vegetarian option served too. Pigs in buns are what we call hog roast rolls, where we prepare, cook and then serve a centrepiece hog roast, but in bread rolls and wraps rather than as a meal with vegetables and potatoes. They're loved by many and it's no wonder why; we lovingly prepare the meat and then watch over it as it sizzles for several hours and then it has a short rest before we carve away. Once we have trays of crunchy crackling and juicy meat pieces, we fill fresh bread rolls and soft wraps with bits of both, top with our own recipe apple sauce and sage and onion stuffing, and hand over to you and your guests to add condiments if preferred. They are heaven in a bun!
For this wedding, the vegetarian option would be veggie skewers, with halloumi and various vegetables grilled to perfection. While we have many alternatives available for guests with dietary needs, this is one of our most sought-after.
By 5.30pm on this day, Hog Roast Edinburgh was ready to serve our pigs in buns and veggie skewers to the eager guests and the happy couple, and we were sure they would all be more than satisfied with what Shannon and our team had put together.