Hog Roast Stow were thrilled to cater at a garden party for around 40 guests with a wide variety of tastes and ages.  For all events, including corporate, wedding and private parties, Hog Roast Stow always liaises closely with the client to ensure that all expectations are met (and regularly surpassed!) and that the most appropriate menu is selected.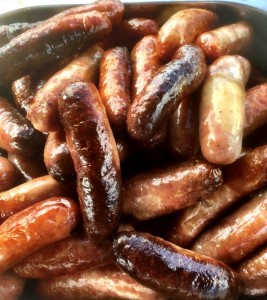 For this type of event, Hog Roast Stow has a selection of six menus and we discussed with the client which would be most suitable as there would need to be a kid's option and a vegetarian option too; we can always cater for any budget, tastes and dietary requirements whatever they may be!  The menu selection ranges from informal, Hog in a Roll food to more formal sit-down catering and the client indicated that whilst the event was informal, they would like real crockery rather than disposable and wanted us to serve BBQ pork, beef brisket and spiced lamb roasts with sausages for the children.  For anyone that didn't want meat, we also included Greek salad, mac n' cheese and baby roast potatoes with rosemary.
We started serving when the guests were ready and as they had already got a whiff of the delicious aromas of the food that we were preparing, they were certainly ready for their food!  Needless to say, the diners were excited and delighted at the food we had to offer with very complimentary feedback on the quality of the food and professional service that Hog Roast Stow delivered and with some of the cleanest plates we have seen at the end!
There are many good caterers for this type of event but one of the things that makes Hog Roast Stow great is not only the professional service and the very high-quality food, but also the flexibility and adaptability that we have to be able to tailor our menus for the clients' requirements.  This was no exception and we always try to fulfil the client's expectation and requirements and wherever possible surpass them; we always welcome feedback and regularly receive very complimentary comments from young and old alike.