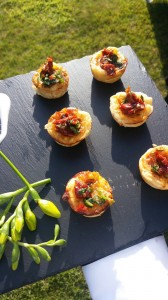 October has been a total washout in Scotland, with bone-chilling rain showers, blustery winds, unrelenting overcast skies and even severe flooding in many places painting a picture of autumn at its most formidable. But despite the miserable weather, our customers and clients have remained undaunted in their pursuit of good times. And one recent celebration that helped lift everyone's spirits was Siobhan and Hayden's wedding, which was set against the backdrop of a stunning Georgian manor house tucked away in the scenic countryside.
Despite the uncooperative weather, the venue itself was a sight to behold. The manicured lawns glistened in the rain, and the grounds were adorned with the rich hues of rust-coloured leaves, creating a magical atmosphere that was uniquely autumnal. Inside the manor house, the ambience was just as enchanting, with the property oozing character that seemed plucked straight from the pages of a storybook.
Our team at Hog Roast East Lothian wasted no time in setting up our equipment in the warm and inviting dining hall. We devoted hours to meticulously crafting a spread that would enthral the taste buds of Siobhan, Hayden, and their 200 guests. Leading the charge was our dedicated catering manager, Steve, who orchestrated the culinary magic of our Formal Wedding Catering With Evening Buffet Menu.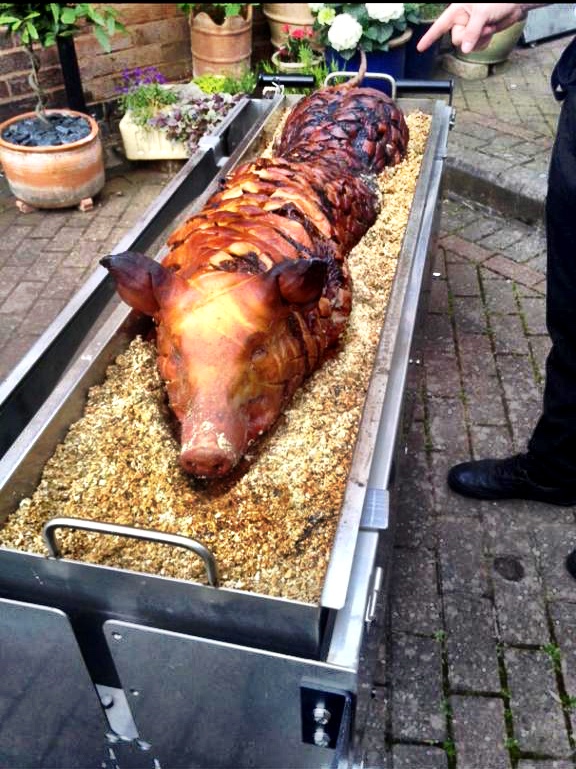 We began this food service by serving drinks and canapés to guests upon their arrival. The main course was unveiled shortly after, treating guests to a sumptuous feast that included a whole-roasted free-range pig complete with crackling, stuffing, and applesauce, spit-roasted lamb accompanied by Yorkshire puddings and mint sauce, or grilled vegetable kebabs with a cooling tzatziki dip. A trio of exquisite sides, featuring homemade gourmet coleslaw, a classic Caesar salad, and a heritage tomato and Buffalo mozzarella salad, along with creamy dauphinoise potatoes, completed the culinary ensemble.
But the indulgence didn't stop there. To sweeten the meal's conclusion, sticky toffee pudding and cheesecake were served, providing a delectable finale to the meal.
However, Hog Roast East Lothian had one more work to do. Later in the evening, after the memorable first dance and cake cutting, we delighted the guests with a buffet of hot bacon and sausage rolls, accompanied by an array of sauces. Slices of the wedding cake added a touch of sweetness to this late-night treat, re-energising the guests and fueling their dance floor enthusiasm.
The event was a resounding success, and Siobhan and Hayden were quick to express their gratitude to Steve and the entire Hog Roast East Lothian team for their unwavering dedication and hard work.