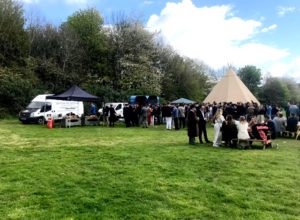 Hog Roast Cupar are always out and about catering around the country and supplying our clients with the finest slow roasted food in the UK! In addition to catering private functions we also cover corporate events whether it's for a local business, store opening or even a school or college – Hog Roast Cupar can cater for all!
This week we had a large event in our dairies- cooking for three hundred St Andrews University Students! Of course, we know students have large appetites and so we made sure we brought plenty of food along. Our Hog Roast Cupar catering manager for the event was Steve who had the task of organizing and serving up all the food. As this was a large event, we brought along two of our trusty Hogmaster machines to be able to efficiently get the job done. With two machines we were able to roast two hogs at once as we had been asked to provide two of our classic Hog Roast Cupar roasts. As always they would be served up with all the trimmings: crispy crackling, tangy homemade applesauce and moreish sage and onion stuffing. Delicious!
For the vegetarian option we had prepared our signature frilled vegetable and halloumi skewers which would be served up with Pitta Breads and a Tzatziki Dip.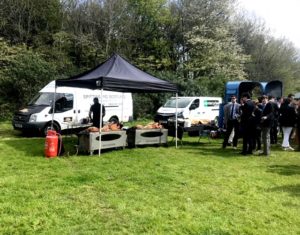 The event was being held at the beautiful Parkhill Farm in Cupar so we didn't have far to travel. With a serve time of three o'clock it was set to be a busy morning to get everything prepared. The secret to any good hog roast is leaving it to cook for as long as possible. Hog Roast Cupar have truly mastered the art of this and we are able to cook our meats to perfection in our roasting machines meaning nothing but succulent meat that melts in the mouth every time…