It's hard to believe that Christmas was more than two whole months ago, but not even the arrival of spring has been able to stop us from reminiscing over all the great grub we happily indulged in over the festive season: the cauliflower cheese, the succulent turkey and don't even get us started on the pigs in blankets – yum! Honestly, we're getting a little peckish just thinking about it! So, it seems a real shame that we're expected to miss out on some of these delicious foods until next December arrives!
If you've ever found yourself feeling the same way, then you'll be glad to know that at Hog Roast Brechin, you don't have to wait until a certain month before you can enjoy your favourite foods. Our Festive Menu isn't just for Christmas, and just like any one of the other menus we have available, it can be enjoyed all year round.
One client who was over the moon when she heard this news was Rhiannon from Hydrus Energy Engineering. She had been put in charge of planning a corporate event for 35 people after the company successfully completed a massive project. And as a reward for all the team's hard work, she had organised for Hog Roast Brechin to serve a custom version of our Festive Menu, which our catering manager, Steve, took the lead on.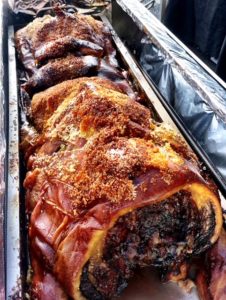 To suit the client's needs, Steve switched out the mince pies for two different cheesecake options on this occasion, as this felt like a more fitting end to the luncheon. For the main, everything else was standard for the menu. The guests were offered a traditional hog roast with all the trimmings (think crackling, savoury sage and onion stuffing and applesauce), homemade cauliflower cheese, a medley of glazed seasonal market vegetables, pigs in blankets, roast potatoes and, topping it all off, a generous drizzle of gravy.
Gluten-free rolls were also available for the guests to help themselves to, and Hog Roast Brechin impressed the veggies and vegans by serving our grilled veggie skewers option, which meant everyone felt well taken care of.