When Ray and Elaine booked Hog Roast Auchterarder for their wedding anniversary party, they had heard great things about our speciality dish – the good old British hog roast. We have received excellent feedback over the years, from both happy customers and their satisfied guests, and not just for our hog and spit roasts, as we can provide much more, including gourmet barbecues and menus with several courses to suit your wants and needs. We are also often commended on our service, which we are particularly proud of, as we try hard to ensure it's perfect and we always go the extra mile when catering any kind of special occasion.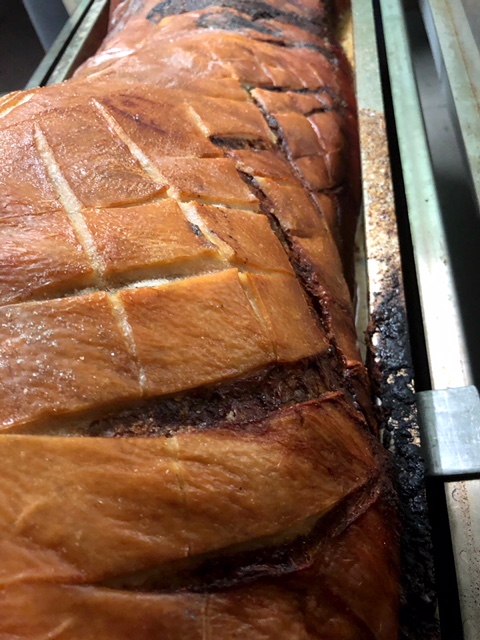 For Ray and Elaine's party, they had in mind a succulent hog roast for most of their forty-five guests, with the meat made into delicious pigs in buns (which you may know as hog roast rolls). However, they also needed an option for one of their daughters, who is a vegetarian, and asked us for a recommendation. Not only do we offer all kinds of dishes to suit personal tastes, but we also have plenty to cater dietary requirements, including for vegetarians. We told the couple all about our various options and they chose one for their daughter which is very popular with our customers – our highly tasty veggie skewers, which we make by grilling chunks of halloumi cheese and vegetables and then we serve in pitta bread together with our own homemade Tzatziki dip.
On the day of the anniversary party, our Hog Roast Auchterarder chef and assistants arrived at the hotel venue early in the afternoon, ready to prepare the meat to be roasted after setting up our equipment. Before too long, it was sizzling away in its own juices and we were counting down the hours until service time.
By 6.30pm, our Hog Roast Auchterarder team had made lots of scrumptious, homemade food and were getting ready to serve it to Ray and Elaine and their family and friends. Once the meat had rested and been carved, the skewers had been grilled and all the fixing for the pigs in buns were ready, the guests started to queue up.