Hog Roast Arbroath has plenty of variety on offer to please our customers and their guests, and not just hog roasts, despite our name. We also cook a variety of spit-roasted meats, including chicken, turkey, lamb and beef, and we cook a mean barbecue too, with gourmet sausages, burgers and ribs. Then there's our Southern Slow Roast Menu, which will satisfy all kinds of personal tastes, as it features three marinated meats and four side dishes, which you choose yourself from a selection, and it also includes a vegetarian option of skewered vegetables and halloumi, served with pitta bread and a dip. Regardless of the type of food you're thinking of having served at your party or event, we can make your vision become a reality.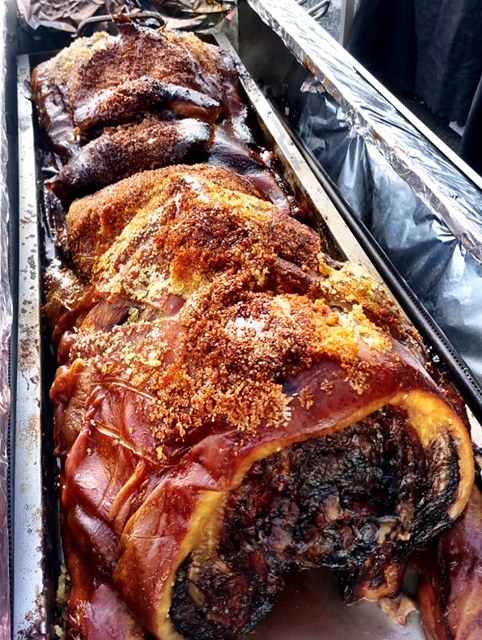 Our Hog Roast Arbroath chef and assistant recently catered a christening locally, at 2-year-old George's family home, where we were asked to serve pigs in buns to most of the 20 guests but to also provide a vegan option. We can cater many diets if needed, and we have a variety of options available for each diet too but in this instance, George's parents asked us to grill our veggie skewers, without the halloumi cheese of course, and to provide a salad dish for them too, but big enough so that everyone could enjoy it if they fancied too.
On the day of George's christening, well before the family and friends headed off to the church service, our Hog Roast Abroath duo set up our equipment in the back garden, and once our gazebo and serving table were up, we cracked on with preparing the meat and then setting it cooking. Roasting a hog this way takes time, and you need plenty of patience to keep checking it's cooking thoroughly, both inside and out, but our team are well-versed in doing so.
After a few hours sizzling away, the hog needed a rest before we carved into it, so meanwhile, we grilled the skewers, prepared the seasonal salad, sliced the bread rolls and arranged them with some wraps, and then placed our homemade apple sauce and stuffing alongside our condiments. Then everything was ready for the guests returning to some fresh high-quality, delicious food.