It was coming towards the end of the financial year and one company decided to celebrate the success they had by treating their staff to a party of some sort. After lots of different ideas it was decided that a festival would make the perfect celebration. A local farmer in Fintry said he had a field that would be perfect for the occasion. Local bands were asked if they would perform on a stage that had been set up especially. Mr Jones who was the company's managing director thought a fun fair would be just the thing to make the day extra special. Side shows which let people win prizes was added to the fun and we at Hog Roast Fintry were asked if we could do the catering that would be fitting for such an event.
Large marquees were hired just in case of bad weather. Luckily the sun shone and it was a lovely spring day. Even the cows in the next field seemed interested in what was happening. Everyone was in good spirits and looking forward to the day.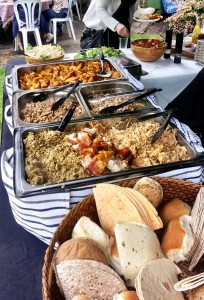 The event started late afternoon and was to carry on into the evening. We at Hog Roast Fintry were asked to provide enough food to last through the day and into the evening as people would probably want something early on then again later when the music started. We choose to do 3 different fresh salads and potato wedges with side dishes to accompany the meats. Pork, beef and lamb were the meats that we choose to slowly roast and the aroma was amazing.
Everyone wanted to know what we put on the meats to give it such a fantastic flavour. Our chefs use a freshly prepared marinade to keep the meats lovely and moist. Some secrets we give away but not all and this is why our flavours are so different to any others that our guests have tasted. We are always getting positive comments on how tasty and succulent our meats are. A lot of thought goes into our recipes so that only we at Hog Roast Fintry can get the flavours our customers love the taste off. After every event we take all rubbish away and make sure everything is clean and tidy. We pride ourselves on our hygiene and cleanliness. After a very successful event everybody left happy and content.