Here at Spitting Pig Scotland, we breed our own pigs in our farm outside of Dundee but we cater the whole of the country with our delicious hog roasts and much more. When Sophie recently contacted us to cater a night-time event at the gorgeous in Midlothian, our team couldn't wait to visit the family-run venue and get stuck in to provide 180 guests with our scrumptious pigs in buns.
Melville Castle is set in a charming country estate and is located just a few miles from Edinburgh's town centre. It's a romantic venue for weddings, engagement parties and anniversaries, as well as an ideal place to hold a birthday celebration or corporate function. The main house is a beautifully restored castellated mansion that dates back to 1786, and the gardens and surrounding woodland are part of 54 acres of estate land on the banks of the Esk.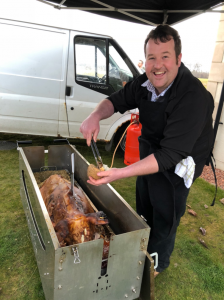 Hog Roast Scotland loves to provide tasty, affordable food for all kinds of events and parties and for this particular special occasion, we set up our equipment in the afternoon so we'd be ready to serve late on in the evening. It takes several hours to roast a hog to perfection, so once the meat was prepared on-site, we set the hog roast machine going to cook the pig slowly but surely, until browned and crispy on the outside, with the skin turned into delicious crackling, and the meat inside so moist and tender, to melt in the guests' mouths.
When it comes to providing our pigs in buns, just like with our other food, we ensure that the ingredients we use are all fresh and of high quality, so that means soft bread rolls sliced and ready to cram pieces of the meat and crackling inside, together with our homemade apple sauce and homemade sage and onion stuffing. Even the condiments we use are good quality, as you really can taste the difference. Plus the meat itself, that we breed ourselves, is, of course, of the highest quality.
By 9.45pm, Hog Roast Scotland was busy serving Sophie and her 180 guests our yummy pigs in buns and we could tell from their faces that they tasted as good as they looked.