All of Hog Roast Perth's menus are super delicious, look fantastic and made with love! Whatever menu you have booked with us whether that's a classic hog roast of seriously tender pulled pork or our southern menu made up of a range of luscious meats and sides, you can add on a sweet treat.
Hog Roast Perth provides a range of delicately made desserts that you can completely indulge on. Like all of the menu's, we have a selection of desserts you can choose from, but if you require something specific, perhaps your favourite dessert, enquire and we are happy to fulfil requests!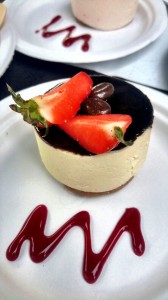 Most summer celebrations select something light and fresh such as a vacherin of strawberries, lemon tart or profiteroles. Hog Roast Perth's Vacherin of strawberries is completely indulgent; it begins with a fluffy, light meringue, filled with mascarpone and fresh whipped cream, a drizzle of strawberry sauce and sweet chopped strawberries. It is finished with a chocolate swirl on top. If you like strawberry pavlova or eat and mess, then this pudding will go down a treat! The lemon tart is served with raspberry coulis, a dusting of icing sugar and a few fresh berries. It has a delicate crust, filled with a sweet yet punchy smooth lemon filling, a circle of pure happiness to be enjoyed. To save Hog Roast Perth's favourite until last, profiteroles! We serve profiteroles as a tower. A biscuit base at the bottom, then strategically stacked light and delicious profiteroles drizzled with milk chocolate sauce. They don't just taste fantastic, but look fantastic, something your guests will sure to be excited about as they won't have seen anything like it before!
All desserts are served with the option of cream. Other desserts that Hog Roast Perth tend to serve are:
Cheesecake
Fresh fruit salad
Summer pudding
Chocolate torte
Fruit tart
Apple pie
Sticky toffee pudding
Browse our options and book it in now!