Alfresco catering is one of our most popular menus during spring and summer time, as it tastes even better when enjoyed in the sunshine! It includes something for everyone to enjoy and combines so many tasty elements together to produce an incredible three course meal. Here is what to expect when you hire Hog Roast Ullapool to cater for your wedding in 20222…
During summer 2021, our catering manager Steve was hired to cater for numerous alfresco weddings, as the menu is such a delicious option! The menu tastes great when enjoyed in the sunshine, so it is ideal for beachside, boho, or non-traditional celebrations. One of the occasions that Hog Roast Ullapool catered for last year was a wedding taking place in Scotland, which required alfresco catering for 75 guests, including 10 vegetarians.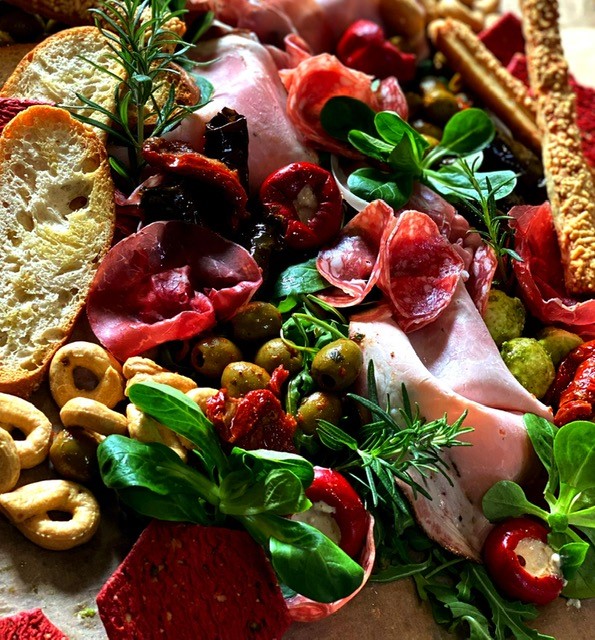 On the day of the wedding, the Hog Roast Ullapool team arrived at the venue in the morning to prepare the catering freshly for the guests. The menu began with the starter, which included sharing platters for the guests to enjoy. On the platters was gourmet meats and cheeses, as well as fresh bread and salad dishes. This course is incredible and combines a variety of different foods to create a wonderful starter. There was something for everyone to enjoy and it went down a treat!
Following this was a classic Hog Roast Ullapool main course: a slow-roasted hog served with all of the trimmings. The guests enjoyed bread rolls filled with sliced pork or pulled BBQ jackfruit for a meat-free option. The rolls were accompanied by seasonal vegetables and homemade chips to create a delicious main course.
Finally, the Hog Roast Ullapool team served profiteroles and sticky toffee pudding, with the desserts accompanied by fresh fruit and English cream. This was a wonderful way to end the menu and prepared the guests for an evening of entertainment.
Are you looking for a caterer for your wedding? If so, get in touch with Hog Roast Ullapool to secure your date. To book in, let us know your party size, date, and location and we can do the rest. We hope to hear from you soon!