You may have thought that it's too cold in autumn or especially winter to enjoy an outdoor hog roast Forfar, but many of our customers do, year after year. One of the the reasons for that is because munching on hot, comforting food outside is a wonderful way to warm up while still enjoying the crisp, clean air. There's no reason why you can't still light the chiminea or start a fire at your party or event, and put on your gloves and scarf, too, but a winter warmer hog roast Forfar will surely help beat the chill from the inside out.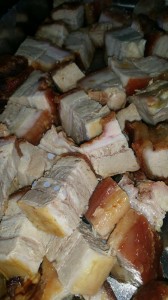 With a winter warmer, to accompany the sizzling, juicy pork and irresistible, crisp crackling, is your choice of seasonal vegetables – whether that's simple carrots and sprouts, butternut squash and courgettes, or something totally different to be roasted. You can add potatoes to this menu if you like, and we can put jacket potatoes in the hog roasting machine or cook new or roast potatoes, or even wedges. We offer so many possibilities it'll make you dizzy!
Our new customer Aurora asked us to cater her daughter's christening party on Sunday, after the ceremony. With close friends and family invited to the buffet-style meal at her home, Aurora asked us to provide a small hog roast Forfar and a medley of kale, purple sprouting broccoli, and cauliflower florets to be drizzled with olive oil and roasted, too. One of the guests needed a vegetarian alternative to the pork, and in this case, a veggie burger was ordered, which I could easily whip up, as we are more than used to providing additional dietary requirements for our customers.
Before Aurora and her daughter left for church, I set up the machine in the back garden and was thankful for the chiminea and fire pit already lit, as it was a bitterly cold day. Although it can often take longer to roast a hog in colder weather, this small beast took just 3 hours, and the meat was resting when the guests all arrived. Once ready and sliced up, even Aurora's tiny daughter loved the taste of the scrumptious hog roast and the lovely vegetables, which I smothered in our yummy homemade gravy.