We know how important the food is at your corporate hospitality event and we always go the extra mile to ensure it's a success, whether it's a handful of staff at Christmas or a huge summer function with hundreds of guests. One of our long-term customers, Debbie, has a textiles business, and she recently contacted us to provide a hog roast Aberfeldy for a fairly intimate party to celebrate an important new contract, together with her employees and her husband.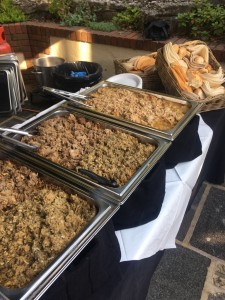 Having used us for her own wedding a few years ago and then for other personal occasions since then, Debbie wanted to share our wonderful hog roast Aberfeldy food with her staff, and she knew that most of them would love it but was concerned about a couple of guests with additional dietary requirements. While most of the guests would be enjoying our scrumptious pigs in buns (that's hog roast rolls to those not in the know!) there was a gluten-free guest and a vegetarian to cater for too. This is never an issue for us, as over the years we have catered for all kinds of diets. All we would have to do for the gluten-free guest was bring along some appropriate bread rolls, as everything else is suitable, while we have various options to choose from when you're a vegetarian or vegan. Debbie had already asked that employee for ideas, and when we let her know the kinds of food we can provide, she decided on our homemade veggie burger.
So on the day of the party, we arrived at the work premises and set up the hog roast Aberfeldy machine and serving station in a loading bay. While keeping the door open would let the chilly air in, inside the bay it was heated, so the guests wouldn't get too chilly. After preparing the meat from raw and then turning on the machine, we just had to keep an eye on it cooking for a few hours before starting on the rest of the fresh food.
Soon it was time to butter the bread rolls and dish up the apple sauce and stuffing, cook the freshly-made veggie burger and let everyone know it was time to eat.