Even in the colder seasons, we're always busy catering lots of different kinds of outdoor events (and some indoors) and with our winter warmer menu you won't stay chilly for too long. With this menu, you choose your meat, so a hog or spit roast Dundee that we cook from scratch at your venue, and then you select your seasonal vegetables that we will prepare and cook fresh on-site, too. You won't find Hog Roast Dundee bringing along cheap or half-cooked meat or veg, as we make sure to only use fresh, quality stuff from our trusted local suppliers of butchers and farms, that you will see us chopping, dicing and slicing at your party or special event.
This week, one of the lovely occasions we catered was the anniversary party of our long-term customers Fred and Josie, who have been married for 50 years now. As it's Josie's 70th birthday coming up soon, too, they wanted a double celebration, and after enjoying our hog and spit roasts for more than ten years, they couldn't think of a better way to honour both occasions than with one of our specialities.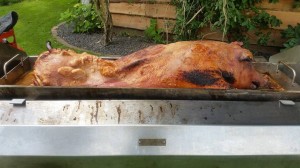 Both Fred and Josie agreed that it should be a hog roast Dundee, and with it being November they asked us to provide a winter warmer menu including honey-roasted beets, carrots, and parsnips, as well as an onion and sage gravy. While they usually prefer to order our yummy hog roast rolls at other times of the year, this couple know how to keep toasty in the chilly autumn air, with one of our winter warmers.
On Sunday, we went along to Fred and Josie's home to set up the equipment and start cooking the medium-sized hog. It would comfortably feed a lot more people than the guests invited to this intimate party for family and close friends, but the couple were happy for us to strip the hog clean of any leftover meat for them to use later.
Once the guests had arrived, the meat had rested a while and the veggies were all steaming hot, crispy and waiting to be served, we started carving off pieces of the crunchy crackling and slices of meat, ready to fill plates of hearty nourishment.