After Burn's Night and Hogmanay, St Andrew's Day is arguably one of the most important days on the calendar for us Scots. It provides the perfect excuse to pig out on traditional cuisine and, if we're feeling really brave (usually after a dram or two of life's water, that is!), get up on the dance floor for a wee jig. But, more than that, it's about connecting with and celebrating our culture and heritage, which gives us something to look forward to every time November rolls around.
This year, Hog Roast Kelso was fortunate enough to be included in many local St Andrew's Day celebrations hosted by our clients, which made the holiday all the more exciting for our team.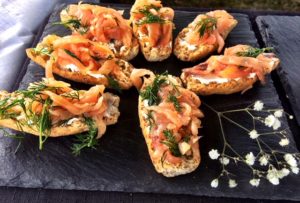 One of the events we handled on the night saw us serve an entirely custom menu for our client, John, who had invited 20-something people over to his home for a luxurious feast that consisted of a smoked Scottish salmon canapé on fresh brown bread; or bite-size beer-battered fish and chips with tartare sauce, followed by a starter of piping hot homemade soup with crusty bread rolls and butter.
While haggis is typically the St Andrew's Day protein of choice, John had decided to switch things up a bit this year by following more recent trends. So, at his request, Hog Roast Kelso served a whole spit-roasted lamb, which before cooking, had been embellished with garlic and rosemary seasoning for that extra bit of flavour. Once cooked, the team served carvings of the succulent meat on real China crockery with fluffy mashed potatoes, sweet turnip and other seasonal vegetables.
John and his guests loved the savoury feast and hungrily devoured every bite before tucking into the dessert, which offered a choice of our chef's own sticky toffee pudding with cream or vacherins of strawberries with passion fruit and mascarpone on a fluffy meringue base.
It might not have been what you would call a traditional St Andrew's Day, but John and his guests had a cracking time and were so grateful for Hog Roast Kelso's catering manager, Steve, who made the entire night a success!